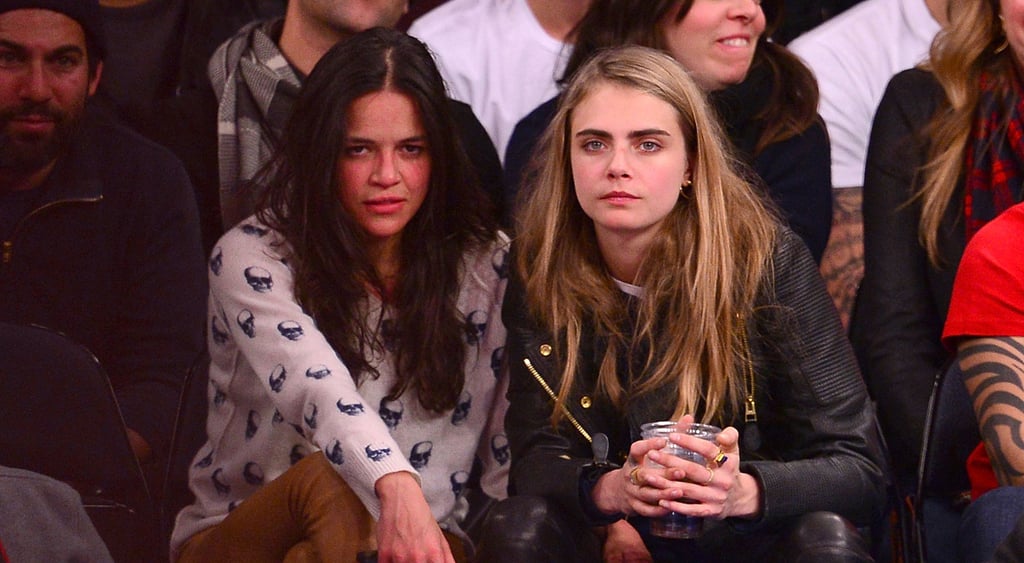 Michelle Rodriguez confirms that she is dating model Cara Delevingne [1], saying that it is "going really well" and that Cara is "so cool." Well, we know that they get along after seeing their wild night at a Knicks game [2] back in January!
Teresa Palmer and Mark Webber welcomed their son [3],

Bodhi

Rain, earlier this week.
Speaking of babies, Jason Biggs and his wife also welcomed a son [4]!
David Wise won the gold [5] in the half-pipe skiing competition at the Winter Olympics yesterday, but the best part was his 2-year-old daughter's reaction. Watch below.
In other Olympic news, NBC is planning on airing a retrospective on the Tonya Harding and Nancy Kerrigan scandal [6] on Feb. 23.
At least 25 are dead, and over 40 people have been injured in the violet protests in Kiev, Ukraine [7].
Meanwhile, Venezuelan opposition leader Leopoldo Lopez [8] has come out of hiding and surrendered to the police. He has been charged with inciting violent protests that left four dead last week.
Marvel has released the new Guardians of the Galaxy trailer [9], and it looks awesome. Bonus: it features a ripped and shirtless [10] Chris Pratt. Watch below.
Meanwhile, Chris's Parks and Recreation costar Aziz Ansari is teaming up with a slew of famous funny people to help raise money for the uninsured comedian [11] who was hit by a train in NYC.
Robert Pattinson [12] has dyed his hair black [13], and it doesn't look awful?
Devo guitarist Bob Casale [14] has passed away at the age of 61.
Your daily dose of cute: watch a woman get swarmed by fluffy little bunnies at "rabbit island" in Japan.