When news broke yesterday that One Direction's Zayn Malik got engaged to Perrie Edwards [1], a few fans were surprised that the two stars, who are both 20, would make a big commitment at such a young age. However, Zayn and Perrie are hardly the first celebrities to make the big wedding [2] promise before they are even old enough to drink in the United States — Miley Cyrus [3], Kate Hudson [4], Angelina Jolie [5], and Patrick Dempsey [6] have all gotten engaged while they were 21, or younger. Keep reading to find out which stars put a ring on it when they were young, and find out which couples are still together to this day.
Source: Twitter [7] and Getty [8]
Olivia Wilde, 19
When she was 19, Olivia Wilde [9] married Tao Ruspoli, the son of an Italian prince who was more than a decade older than her, in a secret ceremony on a school bus. Olivia and Tao divorced in 2011. She went on to date Jason Sudeikis, and in 2013, the couple announced their engagement.
Solange Knowles, 17
In February 2004, Solange married her high school sweetheart, Daniel Smith, when she was 17. In October of that year, she gave birth to their son, Jules. They later divorced.
LeAnn Rimes, 19
LeAnn Rimes married her backup dancer Dean Sheremet in 2002 when she was 19. They divorced in 2010, and she married Eddie Cibrian soon after.
Melanie Griffith, 18
When she was only 14, Melanie Griffith started dating her mother's 22-year-old costar Don Johnson — Melanie was an extra in their movie The Harrad Experiment. They married in 1976, when she was 18, but divorced after six months. Then, in 1989, they got back together, got pregnant, and got married for a second time. They stayed married until 1996.
Macaulay Culkin, 17
Macaulay Culkin famously married Rachel Miner when he was just 17. The young love didn't last long. They separated in 2000 and divorced in 2002.
Kim Kardashian, 19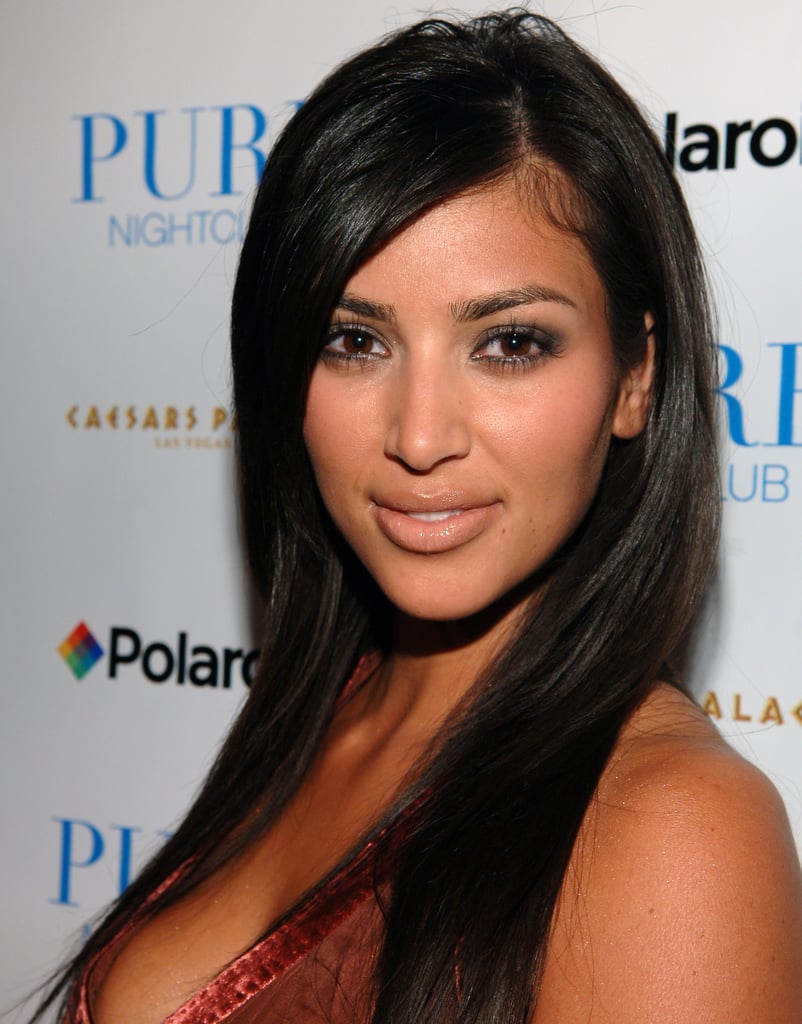 In 2000, Kim Kardashian [10] married music producer Damon Thomas when she was 19. Damon filed for divorce in 2003, and it was finalized in 2004.
Zayn Malik and Perrie Edwards, 20
One Direction's Zayn Malik and Little Mix's Perrie Edwards, both 20, confirmed their engagement on Wednesday after Perrie attended the premiere of This Is Us while wearing a diamond ring. The pair became serious in April 2012 after meeting on the set of The X Factor's UK show — which also launched both of their careers — in 2011.
Source: Twitter user LittleMixOffic [11]
Angelina Jolie, 21
Angelina Jolie [12] was only 21 when she married her Hackers costar Jonny Lee Miller in March 1996. The ceremony was characteristically offbeat, with Angie walking the aisle while wearing black rubber pants and a shirt with Jonny's name spelled out on the back in her own blood. A few months after the marriage, Angelina hinted at problems in their relationship [13] when she said that she felt she had lost her identity by getting hitched, adding: "'You're suddenly somebody's wife. And you're like, 'Oh, I'm half of a couple now. I've lost me.'" The couple separated eighteen months after their wedding [14], but still remain very close friends.
Heidi Montag, 20
Heidi Montag [15] was 20 when she got engaged to her controversial boyfriend and Hills costar Spencer Pratt [16] in May 2007. Despite critics, including Heidi's former best friend Lauren Conrad [17], slamming the pair's relationship, they got married in November 2008 and have remained together ever since.
Patrick Dempsey, 21
Patrick Dempsey [18], then 21, married his acting coach and manager Rocky Parker, then 47, in 1987. The couple divorced in 1994 and Patrick went on to marry his current wife, Jillian Fink, in July 1999. When talking about his May-October romance with Barbara Walters in 2006, Patrick joked that he "needed a mother."
Avril Lavigne, 21
It was a match made in pop punk heaven! Avril Lavigne [19] was 21 when she got engaged to childhood friend and Sum 41 frontman Deryck Whibley in June 2005. The couple got hitched in July 2006 in Montecito, CA. Despite the couple being a perfect match on the music charts, their marriage did not last, and they officially divorced in November 2010. Avril went on to marry Nickelback frontman, Chad Kroeger, in July 2013.
Jamie Lynn Spears, 16
Jamie Lynn Spears [20] got engaged to boyfriend Casey Aldridge back in March 2008 at the young age of 16. Jamie and Casey welcomed their daughter, Maddie Aldridge, a few months later in June. The couple called off their engagement in March 2009. Jamie Lynn and Casey briefly reconciled in August 2010, but they have since gone their separate ways without walking down the aisle.
Paris Hilton, 21
Paris Hilton [21] was briefly engaged to fashion model Jason Shaw in 2002, when she was just 21. The couple broke up in 2003 before they got a chance to walk down the aisle. Despite their breakup, Paris and Jason remained close over the years and linked up again in 2010 after Paris had split from then-boyfriend Doug Reinhardt.
Kate Hudson, 21
Kate Hudson [22] was 21 when she got engaged to Black Crowes frontman Chris Robinson in 2000 after meeting at a party in NYC in May. The couple got married later that year at Kate's family's home in Colorado and welcomed their son, Ryder, in 2004. The couple split up in August 2006, and now Kate is engaged to Muse frontman Matthew Bellamy.
Taylor Hanson, 19
Taylor Hanson was only 19 when he got married to his longtime girlfriend Natalie Bryant in 2002. The two are still together to this day and have five children: Jordan, age 11; Penny, age 8; River, age 7; Viggo, age 3; and Willa, age 1.
Miley Cyrus, 20
Liam Hemsworth, then 22, popped the question to his on-again, off-again girlfriend Miley Cyrus [23], then 20, back in May 2012. The pair's relationship status has continued to be up in the air over the past few months, but they are currently back on.
Blake Jenner, 20
Glee star Blake Jenner, 20, surprised everyone when he got engaged to his costar Melissa Benoist, 24, in July 2013. The couple are private about their relationship, and only recently confirmed that they were even dating each other during a Twitter chat with fans in May.
Tyler Posey, 21
Teen Wolf star Tyler Posey, 21, got engaged [24] to his middle-school sweetheart, Seana Gorlick, in July 2013. Tyler gushed about how excited he was about getting engaged, saying: "I've been wanting to ask her to marry me for years now, and I finally did it. It's everything I've wanted to do. I finally feel like myself."
Aaron Taylor-Johnson, 19
In 2009, Kick-Ass star Aaron Taylor-Johnson was 19 when he got engaged to his Nowhere Boy director, Sam Taylor-Wood, who is 23 years his senior. The two officially got hitched in 2012 but not before they welcomed two daughters: Wylda Rae, now 2, and Romy Hero, now 1.