There are tons of famous friendships that we all know about, from Ben Affleck [1] and Matt Damon [2] to Drew Barrymore [3] and Cameron Diaz [4], but you might be surprised at some of these little-known celebrity duos. Scroll through to see the high-profile pals that might make you scratch your head. And if you want to see more surprising relationships, check out stars that you didn't know were twins [5] and the celebrities that are godparents [6] for their famous friends.
Jennifer Lawrence and Adele
One is a superstar actress, and the other a superstar singer — obviously they were going to become BFFs at some point! The pair have had multiple fun outings together, whether it's dinner with mutual friend Emma Stone [7] or a low-key hangout with J Law's Hunger Games costars [8], and Jennifer even penned a heartfelt essay about Adele for Time magazine [9].
Sacha Baron Cohen and the Kardashians
Talk about a high-profile movie night, huh? This crew (which also included Sacha's wife, Isla Fisher [10], and other friend Courteney Cox [11]) cozied up to each other to take in Sacha's latest movie, and afterward Kim Kardashian [12] summed up their fun night on Instagram, writing, "About last night — This was the moment right before Sacha showed us the CRAZIEST scene from 'The Brothers Grimbsy' We laughed so hard we cried!"
Selena Gomez and Cara Delevingne
Model of the moment Cara Delevingne has a plethora of celebrity pals — including Rihanna [13], Suki Waterhouse, and Amber Heard — but she's especially close to Selena Gomez [14]. The first time we got a glimpse of the two hanging out was during their July 2014 vacation in Saint-Tropez [15]. The trip served as a celebration for Selena's 22nd birthday, and the duo seemed to have the time of their lives: they jumped off a yacht, rode Jet Skis, and attended the Leonardo DiCaprio [16] Foundation Gala together. Since then, they both scored a coveted spot in mutual pal Taylor Swift's badass music video for "Bad Blood." [17]
Beyoncé and Blake Lively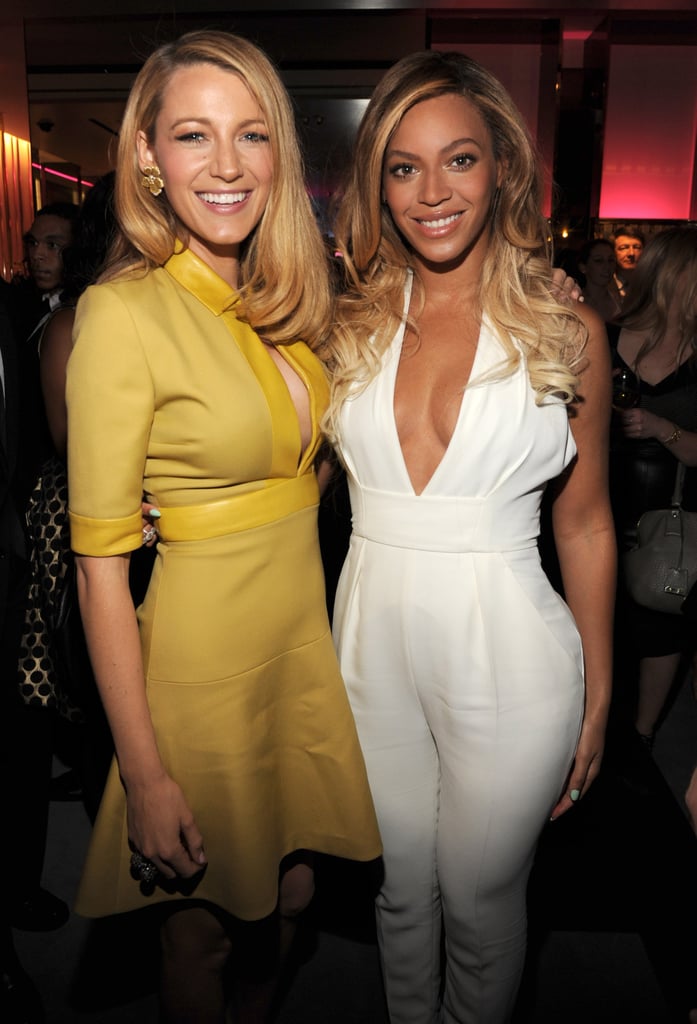 Beyoncé tapped Blake Lively [18] to make a cameo in the music video [19] for her and husband Jay Z's hit "Part II (On the Run)" in May 2014, and many people couldn't help but wonder, "How do those two know each other?" They are both involved in Gucci's Chime For Change initiative, along with Madonna [20], Jennifer Lopez [21], and Salma Hayek [22], but it was at a 2010 jewelry collection launch hosted by Beyoncé and Lorraine Schwartz where we first spotted Blake and Bey being photographed together [23]. After Beyoncé took the stage at the 2013 Super Bowl halftime show, Blake told reporters [24] at an event, "Oh, my gosh! I just want Beyoncé to be the mother of my children. She was amazing! I can't . . . I can't even. I don't even have words for her."
Courtney Love and Carrie Fisher
The rock 'n' roller and Princess Leia (now General Leia, if you want to be technical) have apparently been friends for a while and even spent this past Christmas together. "Best way to wrap up the Christmas evening," Courtney captioned a selfie of the two of them. "Snuggling with Princess or now General Leia herself @carriefisher #girlstuff #carriefisher ❤🎅💕." So cute!
Ruby Rose and Ellen Page
Ruby credits Ellen as the reason she wasn't eaten up by Hollywood and shared a deeply heartfelt message on Facebook for the Freeheld actress's 29th birthday this February, writing in part [25], "I never knew how crucial it would be to have loyal and real friends around me in Hollywood until push came to shove and there you were everytime, the most honest, the most fearless and the most loyal person I know. When it comes to friendship no one does it better than you." Friendship goals in a nutshell.
Taylor Swift and Jaime King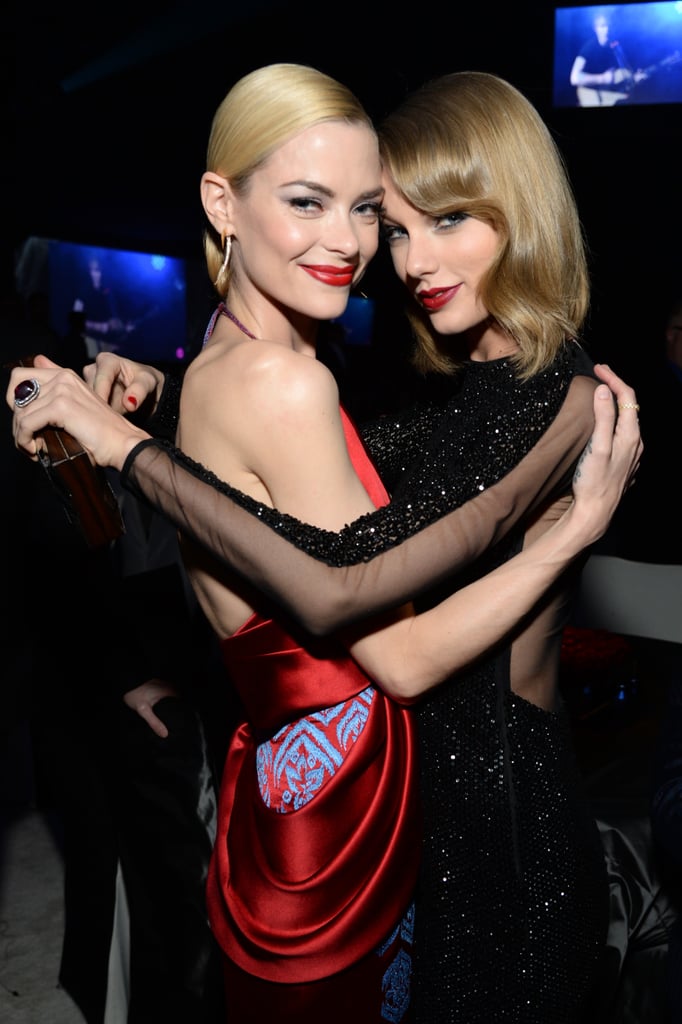 Taylor Swift [26] added model and Hart of Dixie actress Jaime King to her long list of celebrity friends. The two built a fast friendship, as they reportedly first met at the Weinstein Co. Golden Globes party in early January 2014. They stepped out together for multiple award show events — including Elton John's Oscars-viewing party and the Vanity Fair bash — and have also been spotted out and about grabbing meals in LA. They participated in the ALS ice bucket challenge together two Summers ago, and Jaime even revealed to us that she bought Taylor a full Le Creuset bakeware set [27] to thank the singer for letting her stay in her NYC home. After announcing her second pregnancy in February 2015, Jaime named Taylor as the godmother [28] of the little one, and Taylor has had an adorably active role in his life [29] ever since Jaime gave birth.
Ashton Kutcher and Princess Beatrice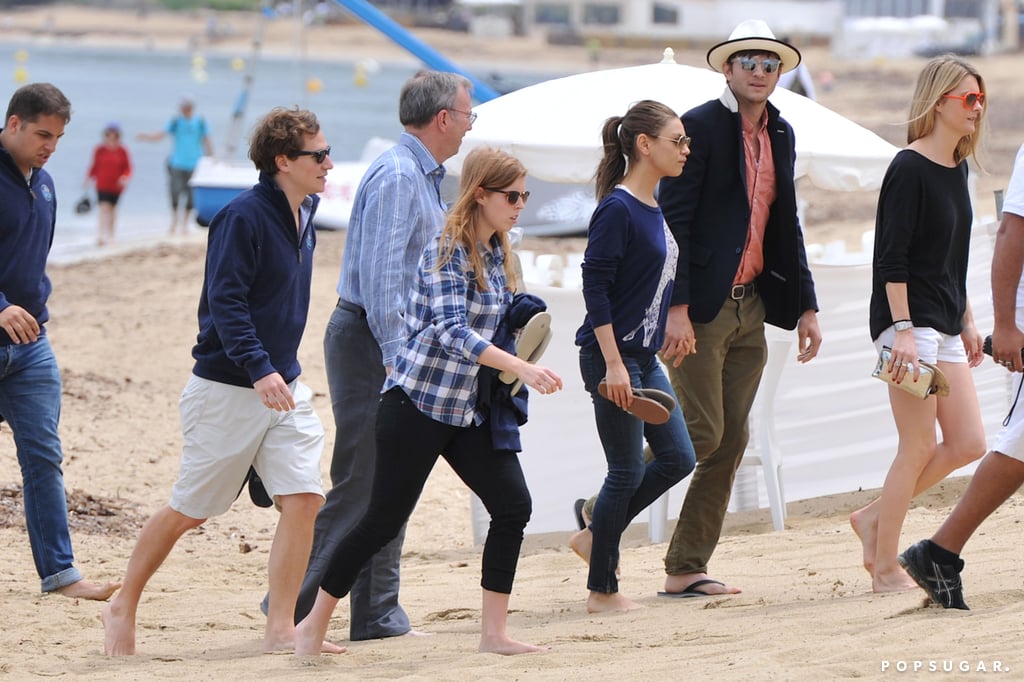 It's not every day that celebrities become friends with royals, which is why it was so surprising to see Mila Kunis [30] and Ashton Kutcher [31] vacationing in Saint-Tropez [32] with Princess Beatrice and her boyfriend, Dave Clark, in June 2013. Ashton reportedly met Beatrice's beau in 2012 after he bought a space flight on Virgin Galactic, where Dave works in astronaut relations. The couples were then introduced to each other and went out on a double date in London before their tropical trip. Now that Mila and Ashton have welcomed their first child together, perhaps they'll get a royal visit from their high-profile friends!
Chrissy Teigen and Erin Andrews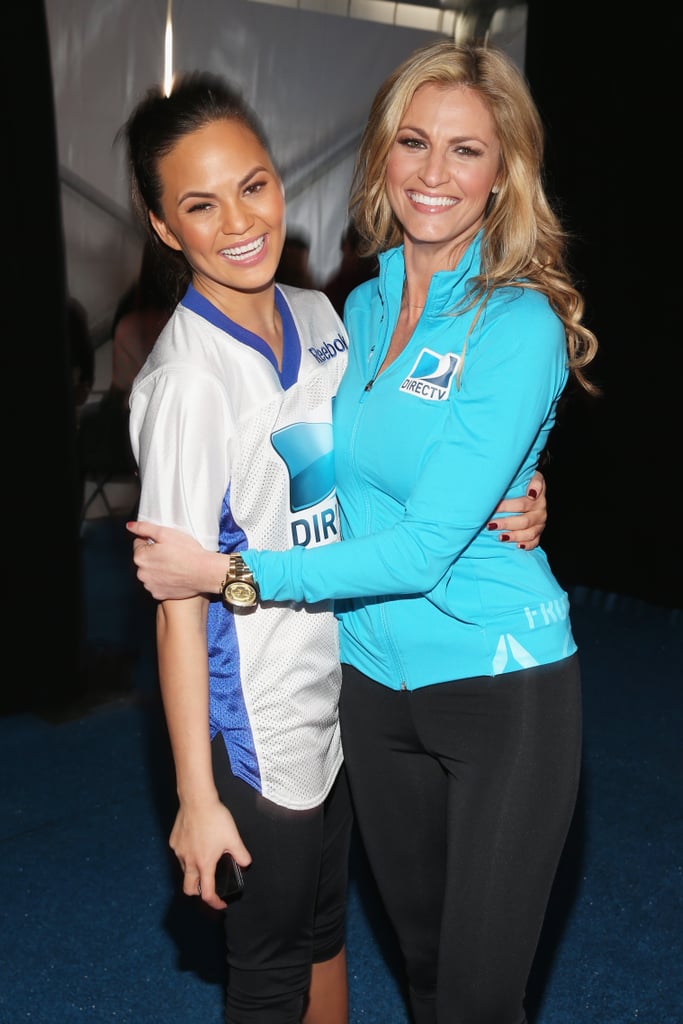 Sports Illustrated swimsuit model Chrissy Teigen and Fox Sports commentator Erin Andrews have been close friends for years. The ladies frequently trade sweet and funny tweets, and Erin — along with Chrissy's other model pal Brooklyn Decker — served as a bridesmaid in Chrissy's September 2013 wedding [33] to singer John Legend [34].
In the September 2014 issue of Health [35], Erin talked about her famously outspoken and "hilarious" BFF, saying, "She says what I wish I could say and get away with." She added, "You can tell when she's having a bad day and she's just on a roll. She'll send out maybe eight tweets per second, and it's, like, whoa."
David Beckham and Snoop Dogg
David Beckham [36] and Snoop Dogg became friends in 2008, not long after David and his family moved from London to Los Angeles. David appeared on an episode of the rapper's reality show Snoop Dogg's Father Hood, and the rest was history. Snoop told the UK Mirror [37] in 2011, "Whenever I make a record, I give him a copy before it's done. He's like a brother. I'm gonna show him to rap, for shizzle." He added: "He's my boy. I love soccer just as he loves hip-hop. Beckham needs to keep doing what he's doing — he's a great father."
Jay Z and Chris Martin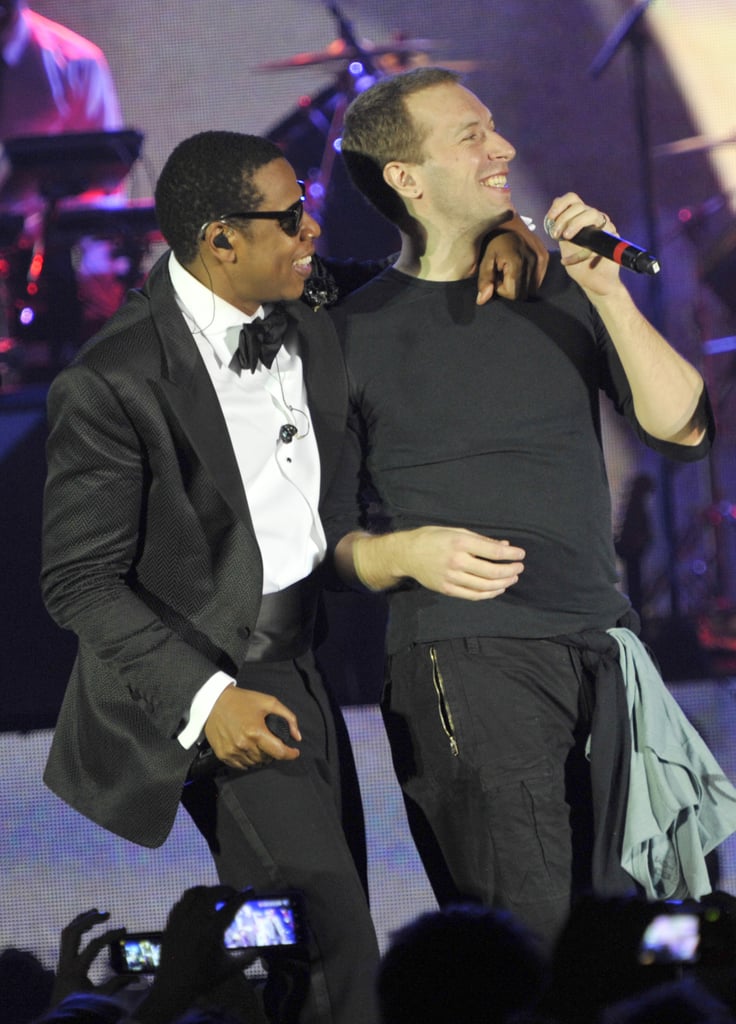 While Beyoncé's friendship with Gwyneth Paltrow [38] has been well publicized, it's not as widely known that Jay Z and Chris Martin [39] are also buddies. The musicians met in 2006 and soon hit it off professionally. Later that year, Chris collaborated with Jay on his comeback album Kingdom Come, and the two hit the stage together at the 2009 Grammys as well as multiple shows at London's Wembley Stadium. Of meeting the Brooklyn-bred MC, Chris told The Sun [40], "When Jay first said, 'I like your band,' I was, like, 'What the f*ck are you talking about? No, you don't!'"
If that wasn't proof enough of their friendship, Chris's ex-wife, Gwyneth Paltrow, famously told Now UK in 2013 [41] that their kids, Apple and Moses, call the rapper "Uncle Jay," and Gwyneth spent the 2016 Super Bowl hanging out with Bey and Jay's daughter [42], Blue Ivy.
Jennifer Lawrence and Taylor Swift
Taylor Swift [43] counts Jennifer Lawrence [44] as one of her best texting buddies. The two apparently exchange heartfelt messages when they're proud of each other, as Jennifer recently told Ryan Seacrest [45], "Oh, my God, I freaked out over the CMAs. I sent her a text message that was like six inches long." Taylor reportedly returned the favor after watching Jennifer in American Hustle.
These two seem to be close pals, although there was that time that Jennifer crept up on Taylor on the 2014 Golden Globes red carpet [46], jokingly saying, "I was going to come in and push you down the stairs."
Bob Saget and Macaulay Culkin
It must be nonstop jokes when these funny guys get together. Bob, Macaulay, and Seth Green [47] made an unlikely trio when they recently reunited [48] to see Bob's Broadway show and spent the night frolicking all over Times Square. There isn't an exact date of when these '90s stars met each other, but we're willing to bet they've been bumping into each other for years.
Orlando Bloom and Justin Theroux
Besides being actors, Orlando Bloom [49] and Justin Theroux have also likely bonded over their love of riding motorcycles. The two were spotted chatting it up at the Vanity Fair Oscars afterparty in 2013 along with their ladies, Orlando's ex Miranda Kerr [50] and Justin's then-fiancée Jennifer Aniston [51], and in February 2014, they had a boys night out at the Deth Killers popup shop [52] in NYC, where they popped fake wheelies on a motorcycle and browsed clothing from the brand. This is obviously a good-looking friendship, so we'd love to see more leather-clad outings from Orlando and Justin.
Lena Dunham and Claire Danes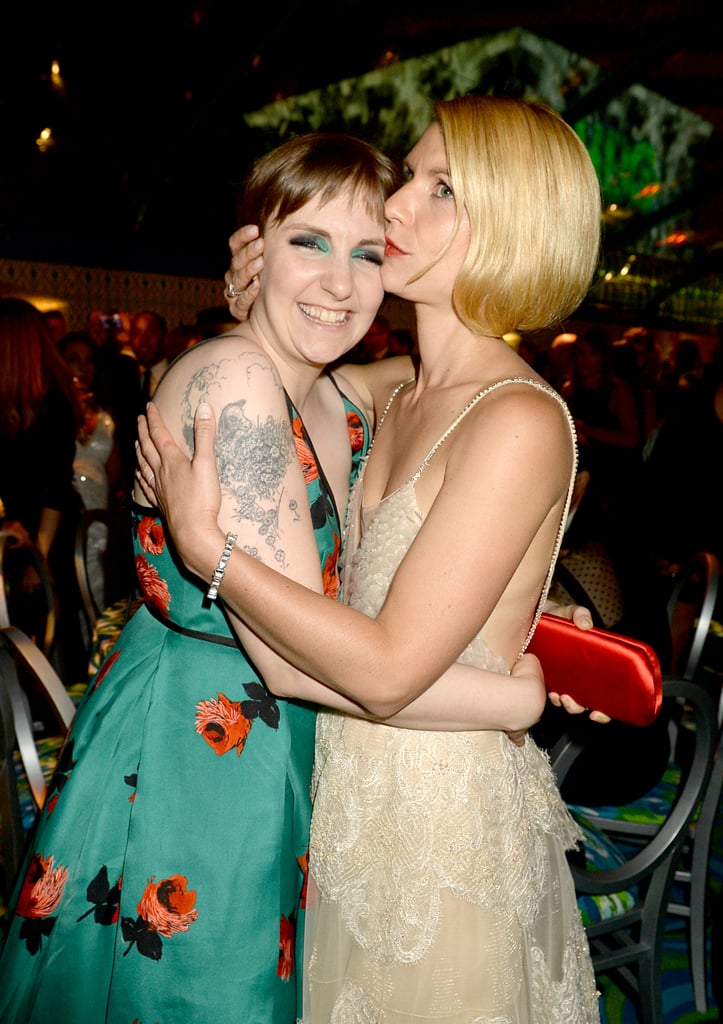 TV stars Lena Dunham and Claire Danes [53] apparently grew up in the same NYC neighborhood but didn't become friends until years later when they were introduced by a mutual pal. During a red carpet interview at the Emmys in 2013, Claire told Ryan Seacrest [54] that she is "in constant awe" of what Lena does, with Lena replying that Claire is her "favorite actress." In the same chat, Claire confessed that Lena was the one who turned her on to watching [55] the ABC show Scandal while she was nursing her newborn son, Cyrus.
Serena Williams and Colton Haynes
The tennis pro and Arrow actor have been friends for a few years now, and although it's unclear how they originally met, they frequently post jealousy-inducing snaps of their epic vacations (and jaw-dropping costumes [56]) together to Instagram.
Reese Witherspoon and Naomi Watts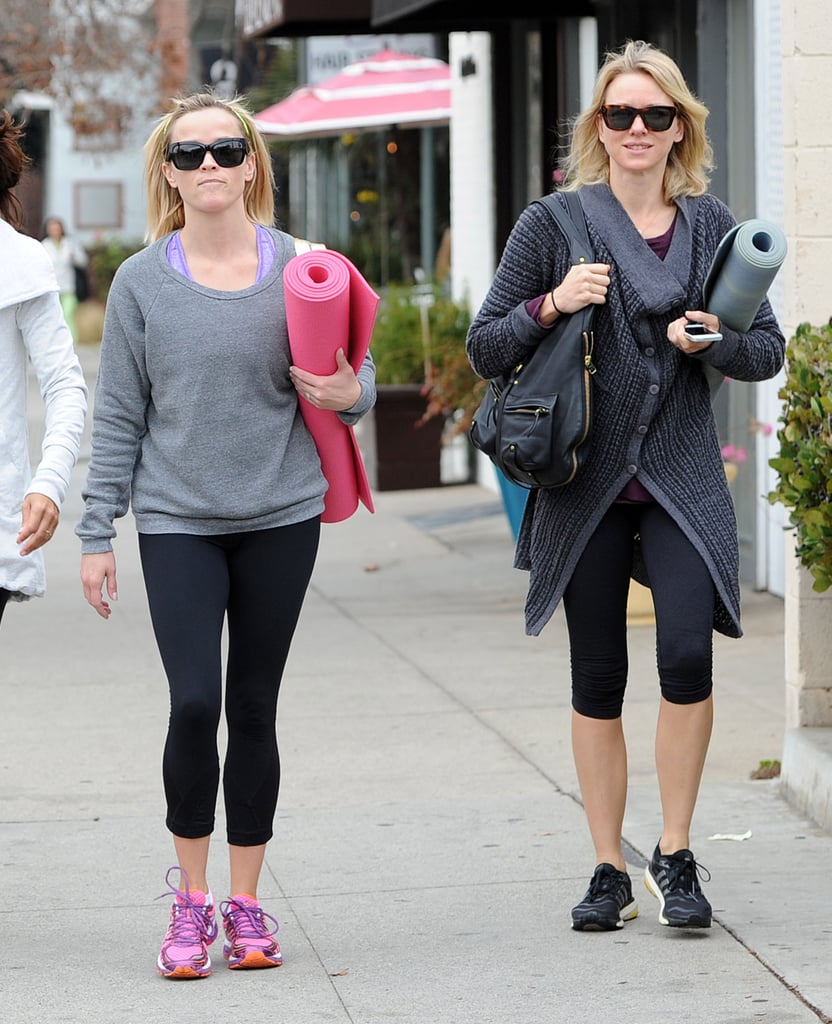 We've spotted A-list actresses Reese Witherspoon [57] and Naomi Watts [58] leaving yoga classes together in LA and were excited to see that the two are friends. The story of how they met, however, is even more adorable. Ahead of the 2013 award season — during which Naomi was nominated for an Oscar for her role in The Impossible — Reese confessed to Entertainment Weekly [59] that she had written an old-school fan letter to Naomi to gush about her performance in the film. She started the note with, "Hi Naomi. I know we don't know each other well. I hope it's OK that I am reaching out to you, because I simply could not contain my enthusiasm about your performance in The Impossible."
The heartfelt letter goes on: "Not since I saw Meryl Streep [60]'s performance in Sophie's Choice have I been so moved by an actress's performance. If I have anything to do with it (and I will literally tap dance on Sunset Boulevard for you!), you will be holding every beautiful statue that exists by the end of February." After receiving a letter like that, it's no surprise that a friendship would blossom.
Courteney Cox and Ed Sheeran
This is one famous friendship that we did not see coming. British singer-songwriter Ed Sheeran began his kinship with Courteney Cox [61] when they were introduced by a mutual friend in 2013. Shortly after that, he ended up living at Courteney's Malibu, CA, beach house for three months while writing his new album. He told The Sun that year, "There was no rent, but I made the bed and cups of tea and things like that. If you're staying at your friend's house, you should treat it like your own." Ed quickly repaid the favor in another way when he introduced Courteney to her now-fiancé, Snow Patrol's Johnny McDaid [62].
Blake Lively and Taylor Swift
Do you think Blake and Taylor bonded over their shiny blond hair? Their perfect smiles? Or maybe the fact that the two both have Instagram games so strong, they simply had to join forces? While Taylor was on tour in Australia last Summer and Blake was in town filming a movie, they linked up [63] and had a fun-filled day out that included shopping and selfies with kangaroos (naturally). A few months later, Blake was sure to wish her new pal a very happy "Thanksgiving birthday" [64] with an adorable pumpkin pie that included miniature versions of Taylor's two cats on top.
Mariah Carey and Will Ferrell
Will and Mariah are definitely one of the odder couples on the list, but there's no way you can deny how amazing their friendship must be. The Get Hard actor recently supported Mariah during one of her Las Vegas shows, where the singer snapped a stunning photo of them together, writing, "Shake and bake!! Thank you for coming to my show last night !! #elf forever!!"