Wednesday is National Best Friend Day, and we're celebrating by rounding up pictures of our favorite celebrity buddies. Take a look at girlfriends Beyoncé and Gwyneth Paltrow [1], supportive pals Robert Pattinson [2] and Katy Perry [3], and beautiful buds Penélope Cruz and Salma Hayek [4]. There's also Leonardo DiCaprio and his longtime best friend Tobey Maguire [5], plus so many more. Read through to see them all!
Ed Sheeran and Taylor Swift
Taylor and Ed first met after he heard she'd been writing his song lyrics on her arm during a show in Australia. From there, he linked up with her manager and they teamed up on "Everything Has Changed" in 2012. Since then, the two have become extremely close and have shared countless cute moments together [6].
Kendall Jenner and Gigi Hadid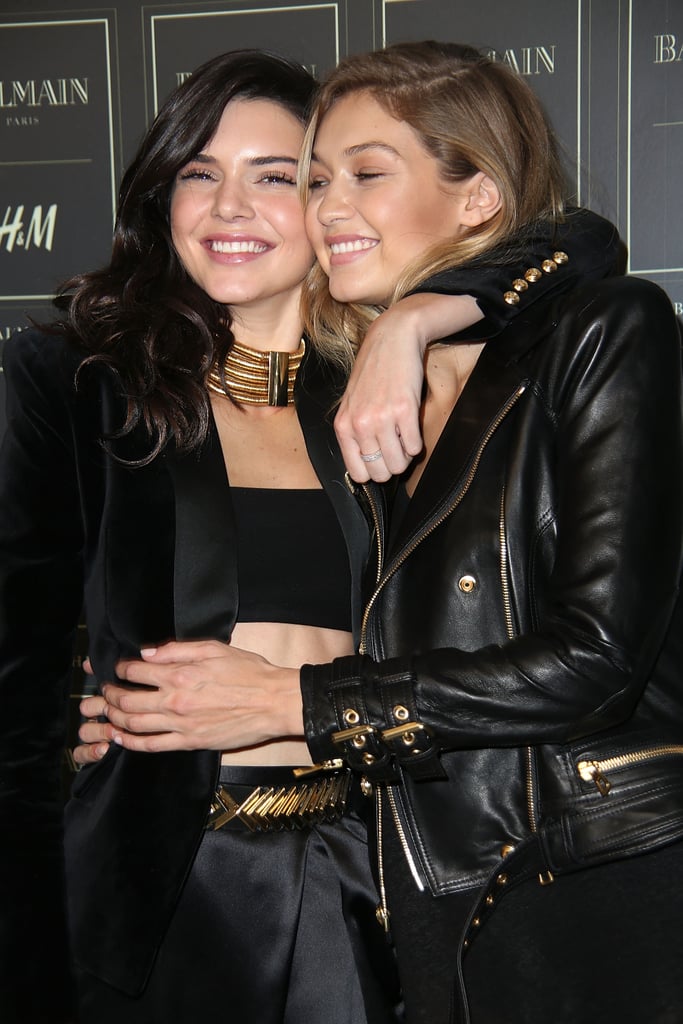 Kendall and Gigi have taken BFF goals to a whole new level with their incredible street style [7] and their ongoing collection of sweet moments together [8]. While we're not exactly sure when these two became close, Gigi has gone on record saying [9] that the one thing she really "respects" about Kendall is that she's "really helpful" and "the most low-maintenance person."
Aziz Ansari and Jennifer Lawrence
These two always look like they're having a fun time no matter what they're doing. In addition to making hilarious videos [10] and giving each other piggyback rides [11], the pals were recently spotted enjoying some quality time together in Italy [12].
Taylor Swift and Selena Gomez
These two ladies have been close since their early days in the spotlight, and have a lengthy list of cute moments under their belts [13]. In 2009, the "Good For You" singer opened up about their relationship to Seventeen, saying, "Every single problem I ever have is healable by Taylor Swift [14]! If I ever I have an issue, Taylor has gone through it, because she's older than me, and she gives the most thought-out answers . . . We literally talk every day."
Jennifer Aniston and Courteney Cox
Jennifer and Courteney bonded while filming Friends back in the early '90s and have remained close ever since. Jennifer is even the godmother to Courteney's daughter [15], Coco Arquette.
Victoria Beckham and Eva Longoria
Victoria and Eva have been BFFs for quite a few years now. In July 2015, the Telenovela actress spoke about their relationship to the Daily Mail Australia [16], saying, "We're best friends and have shared lots of life lessons together." Most recently, Victoria designed the star's wedding dress [17], and Eva is even the godmother [18] to her 4-year-old daughter, Harper.
Chrissy Teigen and Kim Kardashian
While it's unclear when Kim and Chrissy met, one thing is for sure: they have nothing but love for one another. Not only did Kim throw Chrissy a baby shower [19] in March, but the new mom recently shared a few adorable Snapchats of "Auntie Kim" meeting baby Luna [20].
Amy Schumer and Jennifer Lawrence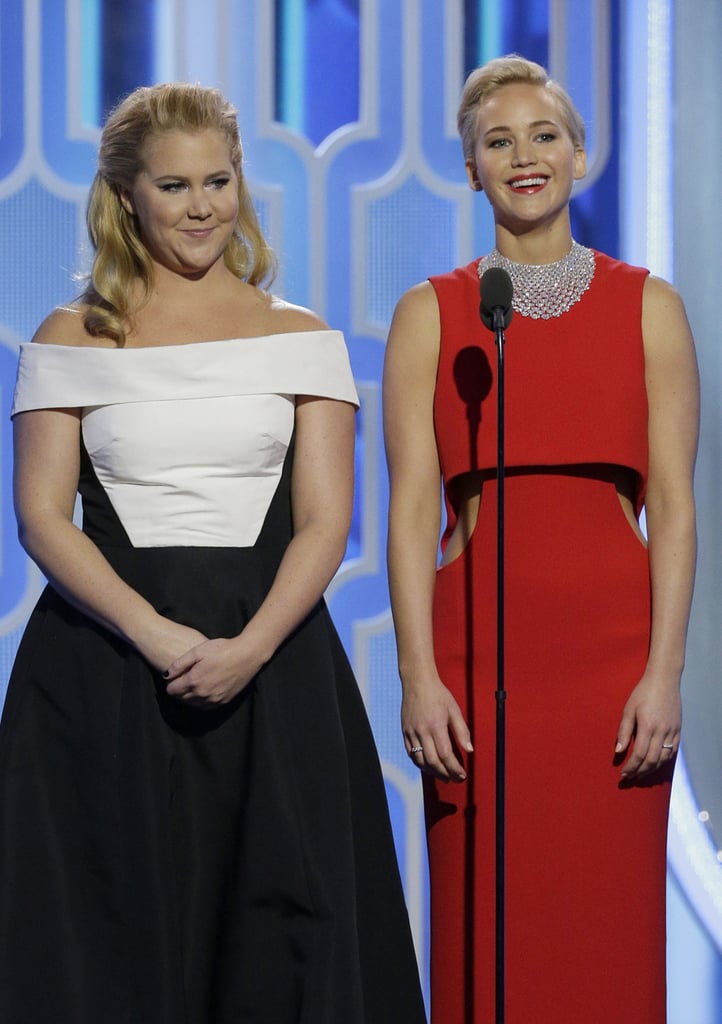 Amy and Jennifer are the two friends we all wished we had. In addition to being incredibly talented, these two women are the epitome of friendship goals and have a bevy of hilarious moments under their belts [21].
Nina Dobrev and Julianne Hough
The two stars were first introduced through their hairstylist, Riawna Capri, who told the ladies they "had to meet," and ever since then, they've practically been inseparable [22].
Sienna Miller and Channing Tatum
Sienna Miller [23] and Channing Tatum [24] became pals after they met on the set of G.I. Joe: The Rise of Cobra. Sienna even said that she has been giving Channing advice on raising a baby now that he and wife Jenna Dewan Tatum are parents.
Selena Gomez and Lily Collins
Selena and Lily may have both dated Taylor Lautner [25], but it hasn't stopped the two of them from becoming friends.
Leonardo DiCaprio and Lukas Haas
Leo and Lukas have been buddies since they first met while auditioning in Hollywood years ago. They stick together for sports games and lavish vacations, and they even attended Coachella together in 2011.
Jennifer Aniston and Chelsea Handler
Jennifer and Chelsea have grown close over the last few years and even have taken vacations to Cabo together.
Jennifer presented Chelsea with a Glamour Woman of the Year honor in 2012. At the show, Jen said, "I rarely comment on my personal life. But I'm here to tell you, I'm madly in love. I'm madly in love with the one and only Chelsea Handler."
Katy Perry and Allison Williams
Pals Katy and Allison attended the Grammys together in 2013. Allison said of the date night with Katy [26], "She's a friend of mine and she's nominated, as she should be. I can't wait to go."
Lauren Conrad and Lo Bosworth
These two have been besties since their time together on Laguna Beach, and their friendship has lasted through their journey to Hollywood. Lo was even in Lauren's wedding [27] party!
Zac Efron and Ashley Tisdale
Zac and Ashley have been buds since their High School Musical days and still spend time together. Ashley even showed her support for Zac at his Lucky One premiere in April 2012.
Rihanna and Katy Perry
Rihanna [28] and Katy are such good friends that Rihanna was a part of Katy's small bachelorette party back in 2010. They managed to catch up at Coachella in 2012, and they love to get together whenever their busy schedules allow.
Reese Witherspoon and Kate Winslet
Reese met Kate in 2007, and they've been buddies since. Reese said of their friendship, "Imagine my good fortune when Kate Winslet [29] moved into my neighborhood, rang my doorbell, and said, 'Dahling, Sam [Mendes] is off shooting and I believe our children are the same age. Could they possibly have a playdate, and, oh, by the way, it's almost 9 o'clock and I've had nothing to drink — do you have any wine?'"
Salma Hayek and Penélope Cruz
Salma and Penélope have been pals for years and starred together in 2006's Bandidas.
Justin Bieber and Usher
Justin used to idolize Usher [30], and now the singer is one of his closest friends. Usher signed Justin to his record label in 2008 and quickly became the teen's mentor. Usher even stood by Justin during some of his more scandalous times.
Woody Harrelson and Matthew McConaughey
Woody and Matthew are longtime friends, and they recently took their relationship to the small screen. Woody and MM were TV costars for the first time in HBO's True Detective, after working together on the big screen in both Edtv and Surfer, Dude.
Will Ferrell and John C. Reilly
Will and John have never been shy about their hilarious relationship. The two have starred in several movies together, including Talladega Nights and Step Brothers, and at a Lakers game in 2011, they showed some PDA on the kiss cam.
Nicole Kidman and Naomi Watts
Nicole and Naomi aren't just fellow Aussie actresses; they're best friends. The ladies were classmates in high school, and their friendship is evident on red carpets to this day. Nicole has said of her friendship with Naomi [31] that they are "very, very good friends and have maintained that through so many things."
Leonardo DiCaprio and Tobey Maguire
Leo and Tobey have been catching Lakers games together for years, and Tobey talked about working with Leonardo on 2013's The Great Gatsby. "The fact that I was forced to see one of my best friends every day was fantastic."
Taylor Swift and Lena Dunham
Taylor and Lena are close pals. The two forged a friendship after Lena tweeted about liking Taylor's music. Taylor even reportedly hosted Lena at her Rhode Island home for a 2014 Memorial Day party.
Beyoncé Knowles and Gwyneth Paltrow
Beyoncé and Gwyneth have been close friends for years. Beyoncé told Harper's Bazaar UK of Gwyneth, "She is what I strive to be one day." In the same publication, Gwyneth returned the compliment by calling Beyoncé "the most talented human being on the planet."
David Beckham and Gordon Ramsay
David and Gordon's friendship goes beyond just guy time; their families are close and even spent Easter together in 2012.
Eva Longoria and Mario Lopez
Despite past rumors that they were a couple, Eva and Mario are actually more like family. Eva considers Mario a brother, while Mario shows support for his "girl" Eva on Twitter.
Tina Fey and Amy Poehler
The funny ladies shared the screen on Saturday Night Live for years, but their friendship actually got started in the '90s while they were both studying improv in Chicago.
Kristen Stewart and Scout Taylor-Compton
Kristen counts her Runaways costar Scout as one of her close friends. The two met while auditioning for the same roles when they were starting out in Hollywood, but they haven't let the competition keep them from becoming pals.
Kim Kardashian and La La Vasquez
Kim and La La's friendship goes back many years, and the duo still likes to sit front row at fashion shows, watch basketball games, and hit the red carpet together.
Jake Gyllenhaal and Marcus Mumford
Jake and the Mumford and Sons singer have been pals for years, with Jake even attending Marcus's 2012 wedding [32] to Carey Mulligan [33].
Robert Pattinson and Tom Sturridge
These two go all the way back to their school days in London. Both guys relocated to the US for their careers around the same time, and they hang out with the same group of British actors in Hollywood.
Lena Dunham and Jemima Kirke
Lena and Jemima have been pals ever since their school days at Brooklyn's St. Ann's School. The two have remained very close over the years, with Lena putting Jemima in her film, Tiny Furniture, and on her hit TV show, Girls.
John Krasinski and Jimmy Kimmel
John and Jimmy are funny friends and neighbors. They kicked off 2012 together in Hawaii with their significant others and joked about the vacation on Jimmy's talk show. John and Jimmy have been pulling pranks on each other for years, and the antics are usually highlighted on Jimmy's show as well.
Matt Damon and Ben Affleck
Matt and Ben have been best Boston buds since childhood. They even shared a screenwriting Oscar for Good Will Hunting in 1998. The duo are still close friends, having enjoyed many vacations with both their families in recent years.
Drew Barrymore and Cameron Diaz
Drew and Cameron's friendship was cemented on the set of the first Charlie's Angels film in 2000. They both attended each other's weddings and spend time together in LA with their husbands [34].
Taylor Swift and Emma Stone
Taylor and Emma met at the Young Hollywood Awards six years ago, and their friendship blossomed from there. Taylor told us in 2011 that Emma is "like a sister to me. She can predict my thoughts."
Kelly Osbourne and Miley Cyrus
Being the daughters of famous musicians may explain the bond between Kelly and Miley. The two have been friends ever since they got close on the set of the straight-to-DVD film So Undercover.
Charlize Theron and Kristen Stewart
Charlize and Kristen got to know each other while filming Snow White and the Huntsman in 2013 and became fast friends. Charlize told Access Hollywood of Kristen, "I really, I really, really love that girl. I love that girl, like, I would jump off a building for that girl. She's amazing, she's amazing."
Ryan Reynolds and Sandra Bullock
Ryan and Sandra were introduced by a mutual friend years ago and formed a strong friendship on the set of 2009's The Proposal. They supported each other through divorces, his from Scarlett Johansson [35] and hers from Jesse James. Ryan's even close with Sandra's little one, Louis.
Minka Kelly and Mandy Moore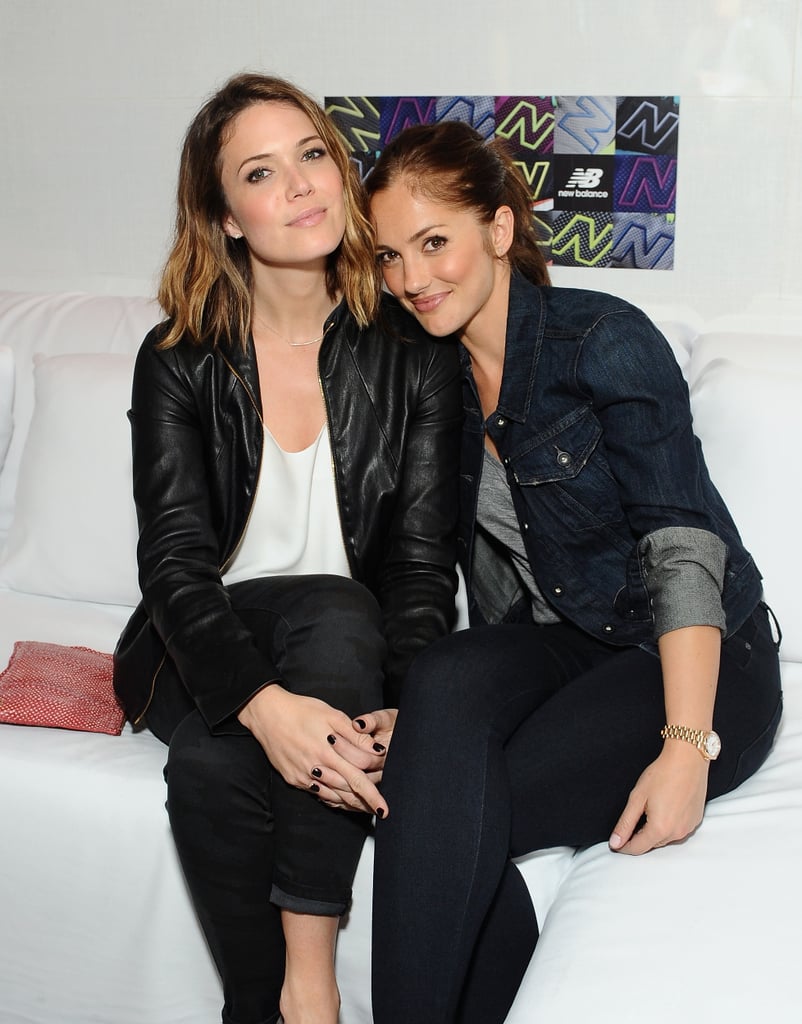 This duo has been besties since at least 2007 [36] and we can't help but notice that they could also practically be sisters!
Zach Galifianakis and Bradley Cooper
Zach and Bradley were buddies long before they starred together in The Hangover. Bradley even made an appearance on Zach's short-lived VH1 talk show, Late World, back in 2002 and was one of the first stars to appear on his Funny or Die Between Two Ferns series.
Katy Perry and Robert Pattinson
Katy is close friends with Rob, and since she reportedly provided him with a shoulder to lean on when he broke up with Kristen Stewart [37], the duo have spent time together in LA and partying at Coachella [38].
Busy Philipps and Michelle Williams
Busy and Michelle became buds on the set of Dawson's Creek in the '90s. Busy even set up Michelle with her former boyfriend, Jason Segel [39].