Nothing tells the world you're in love quite like a PDA-packed social snap. For celebrities, it's the ultimate way of giving their fans an inside view of their relationships and home lives. Everyone from Gisele Bündchen [1] to First Lady Michelle Obama is getting in on the trend, sharing archived wedding [2] photos, formative moments from the early days of lasting commitments, and more. A notable newcomer to Instagram [3], Jessica Simpson [4] recently shared an intimate kiss with her future husband, Eric Johnson; and Channing Tatum [5] took his followers into a fun photo booth session with his wife, Jenna Dewan. Keep reading to see the best PDA we've seen so far, and if you're in the mood to turn the heat up a notch, check out celebrities getting sexy on Instagram [6]!
Source: Instagram [7]
Tom Brady and Gisele Bündchen
In a throwback photo, Gisele showed the sweet kiss Tom gave her at their wedding [8] in 2009.
Source: Instagram user giseleofficial [9]
Jessica Simpson and Eric Johnson
The fiancés locked lips to celebrate St. Patrick's Day 2014. "My Irishman has worn this shirt every year thanks to his Dad wearing it years before...of course I will kiss you!" Jessica wrote in the caption.
Source: Instagram user jessicasimpson [10]
Kim Kardashian and Kanye West
In 2012, long before North West came into the world, Kim took to Instagram to share the way she smiles at Kanye.
Source: Instagram user kimkardashian [11]
Chrissy Teigen and John Legend
In a latergram from a trip to Miami, Chrissy showed how her crooner husband puts the moves on her.
Source: Instagram user chrissyteigen [12]
Justin Bieber and Selena Gomez
Justin captured one of his reunions with Selena in 2014, writing, "Love the way you look at me."
Source: Instagram user justinbieber [13]
Beyoncé and Jay Z
The singer posted a candid snap of a kiss Jay Z gave her.
Source: Instagram user beyonce [14]
David and Victoria Beckham
Victoria's closed-mouth smile was on display when she wrapped her arms around her shirtless [15] husband.
Source: Instagram user victoriabeckham [16]
Britney Spears and Jason Trawick
Months before the couple split, Britney snuggled up to Jason Trawick backstage at a Whitney Houston tribute. "Such a solemn occasion. Jason's doing his best to put a smile on my face," Britney captioned the snap.
Source: Instagram user britneyspears [17]
First Lady Michelle and President Barack Obama
The first lady is a fan of #ThrowbackThursday posts. In this snap, Michelle wrapped her arm around America's future president.
Source: Instagram user michelleobama [18]
Jessica Alba and Cash Warren
Before the couple dug into a serious bowl of shaved ice, Jessica pressed her lips on Cash's cheek.
Source: Instagram user jessicaalba [19]
Rachel Zoe and Rodger Berman
Rachel wished her husband a happy anniversary in this heartwarming image, writing, "Proposing all over again 16 years later!" Just look at how cute their son Skyler is in the background.
Source: Instagram user rachelzoe [20]
Lena Dunham and Jack Antonoff
Lena rested in Jack's lap in the couple's selfie.
Source: Instagram user lenadunham [21]
Channing Tatum and Jenna Dewan
The husband and wife got romantic and silly at Vanity Fair's Oscars party in 2013, packing in kisses in the photo booth.
Source: Instagram user channingtatum [22]
Sarah Hyland and Matt Prokop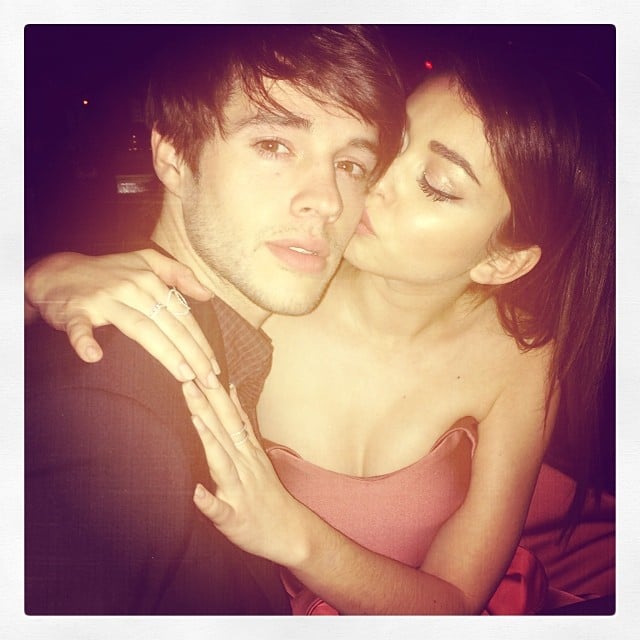 Sarah Hyland gave her boyfriend, Matt Prokop, a closed-eyed smooch.
Source: Instagram user therealsarahhyland [23]
Lauren Conrad and William Tell
"Happy Anniversary to my favorite Valentine . . . I love you dearly xo," the former Hills star wrote to her fiancé and followers.
Source: Instagram user laurenconrad [24]
Neil Patrick Harris and David Burtka
Neil pulled his partner in to capture their boyish grins.
Source: Instagram user instagranph [25]