"Chicken Vegetable Soup" "Chicken and Wild Rice Soup No Cream"
"Momma Wants" Soup
My mom adored the Double - Lemon Roast Chicken I made for dinner and asked me to make a stock from the bones and soup from that. I cleaned out our fridge and turned it into a veggie and nutrient rich chunky bowl of comfort that will keep you from raiding the cookie jar mid afternoon.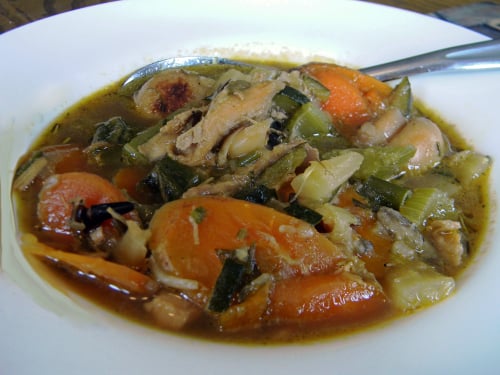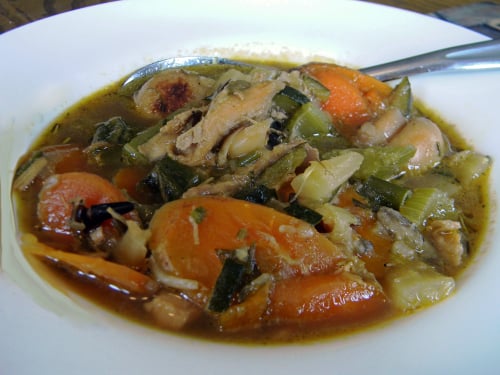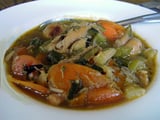 Ingredients
1 tbsp olive oil
1 rib fennel, chopped
5 large carrots, sliced
4 large ribs celery, sliced
1 medium-large zucchini, sliced
18 button mushrooms, halved if desired
1/4 cup white wine (I used Ogio Pinot Grigio IGT)
9 cups homemade (or low sodium) chicken stock
3 tbsp dehydrated onion flakes
1 tsp dried rosemary
1/2 tsp black pepper
1/2 tsp Kosher salt
1/4 cup wild rice
1 skinless, boneless chicken thigh, cooked and chopped
3/4 cup cooked cannellini beans
1/4 cup minced Egyptian onion greens (or green onion)
Directions
In a large, deep pot, heat the oil over medium-high heat.

Add the fennel, carrots, celery, zucchini and mushrooms and cook until the vegetables have begun to soften and the mushrooms have begun to brown.

Raise the heat to high and pour in the wine, stirring vigorously, then pour in the stock.

Add onion flakes, rosemary, pepper, salt and wild rice.

Return to a boil, then reduce heat to a simmer and cook (uncovered) 20 minutes.

Stir in the cooked chicken, beans and green onion and cook a further 35 minutes.
Information
Category

Other, Soups/Stews

Cuisine

North American