ChileQuilas on a Sunday Morning
The key is in the sauce! But of course using Guerrero Tortillas, the right Queso Fresco and fresh organic eggs will improve the results ten fold. Top it off with a little cilantro, fresh green onion and avocado for the perfect Sunday morning brunch. This recipe is one of my favorites so be sure to check it out!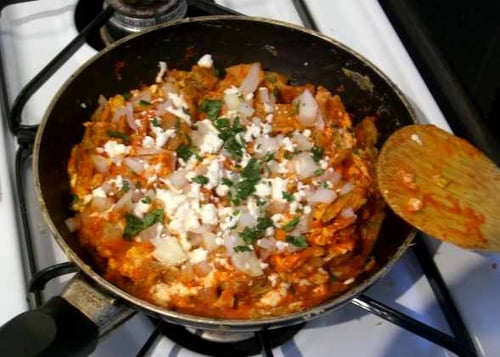 ChileQuilas on a Sunday Morning
http://workinggirlskitchen.blogspot.com/2009/02/chilaquiles-on-sunday-morning.html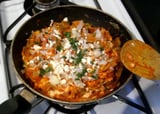 Ingredients
2 California chiles
1 large tomato
1 clove of garlic
1 pinch of oregano
1 pinch of sea salt & pepper
about a 1/4 cup of water
Oil for frying
2 tortillas sliced into one-half inch squares
3 eggs
1/2 cup diced green onion
Queso Fresco cheese
Cilantro
Directions
For the sauce
Boil the two peppers in the water to soften - this should take no less than two minutes. In a blender or your cuisinart, combine the softened peppers, tomato, garlic, oregano, salt, pepper and water. You want to create a semi thick red sauce, so add more water if needed. Lastly, strain the sauce to remove any seeds or skin from the peppers. The sauce will be mild, tangy and a vibrant red.
The Eggs
In a frying pan, heat the oil and add the tortilla squares. Fry until crispy. This should take about 4 minutes. Avoid soggy tortillas - crispiness is very important! Once crispy, add the eggs and scramble over medium/low heat. Once the eggs are close to done pour the red sauce and continue to scramble the eggs. Once the eggs, tortillas and red sauce are completely combined top off with the diced onions, crumbled queso fresco and cilantro. Let simmer for another couple minutes so flavors are well absorbed. Do not overheat because the point is to keep the tortillas crispy and eggs perfectly cooked.
Information
Category

Eggs, Breakfast/Brunch

Cuisine

Mexican