Crockpot Beef & Bell Pepper Red Coconut Curry
Crockpot Beef & Bell Pepper Red Coconut Curry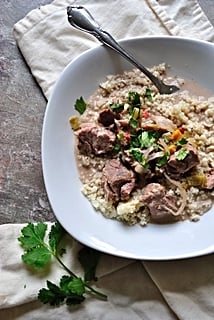 This coconut curry is simple to whip up - you just add everything to the crockpot, set it, and forget it! It's an easy way to warm up on a chilly day. Plus, it's paleo if you serve it over some tasty cauliflower rice!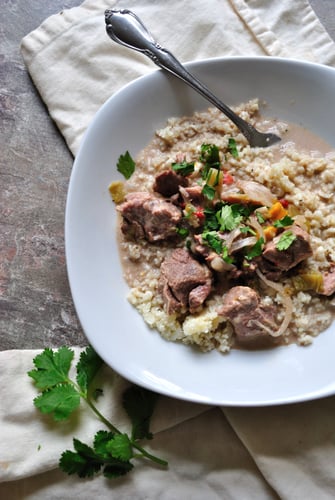 Crockpot Beef & Bell Pepper Red Coconut Curry
Original recipe
Notes
Serve over cauliflower rice or roasted veggies for a warm paleo meal!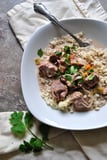 Ingredients
1lb grass-fed stew beef (cut into chunks)
1 can canned full-fat coconut milk (make sure it doesn't have carrageenan)
1 cup mixed bell pepper strips (I use a mix of green, red, and yellow. Trader Joe's sells a great frozen pepper mix!)
1/2 large yellow onion (thinly sliced)
2 cloves garlic (minced)
1 cup water (just enough to ensure liquid covers beef)
1 teaspoon red curry paste (amount will vary based on brand, spice, etc. Mine is crazy hot so 1 tsp. is more than enough)
salt & pepper (to taste)
fresh cilantro (for garnish)
cauliflower rice (for serving)
Directions
1. Add pepper, onion, and garlic to crockpot. Place beef on top of mixture.
2. Add canned coconut milk and just enough water so that all beef is covered.
3. Add red curry paste - amount will very based on brand, spiciness, etc.
4. Cook on high for 2-3 hours or low for 6ish hours until beef is fall apart tender. Taste and then season with salt and pepper.
5. Serve over your favorite cauliflower rice recipe. Garnish with chopped cilantro.
Information
Category

Soups/Stews, Crockpot

Cuisine

Other Asian