Easy Apple-Walnut Chicken Salad
I realized something. I don't like when cooking is complicated. I named this blog The Hungry Runner because half of it is about what I like to eat and how I like to eat it, and what I've learned is that I hate waiting for my food. If I'm hungry, my stomach is screaming "FEED ME NOW!" So, as I continue to share recipes and food ideas, chances are that about 98.5% of them will contain the words quick and/or easy. Exhibit A: Easy Apple-Walnut Chicken Salad.
You only need a few simple things to make this, you chop some of them up, you throw them all into a bowl, drizzle some dressing over everything, and then EAT!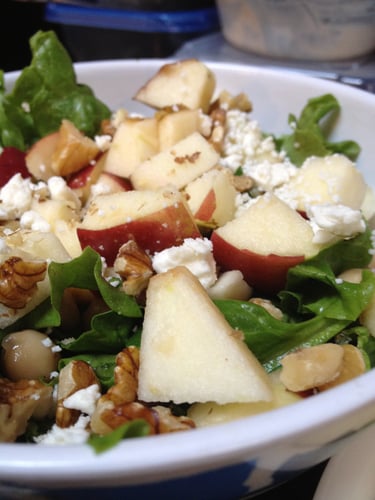 Easy Apple-Walnut Chicken Salad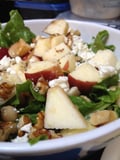 Ingredients
1 cup of lettuce, or your choice of leafy green (I love spinach leaves!)
1/2 of an apple, chopped into bite-sized pieces
3 teaspoons of feta cheese
1/4 cup chopped walnuts
1/2 of a grilled chicken breast, cubed
1 tablespoon of your favorite dressing (a sweet vinaigrette goes best with this)
Directions
1.) Mix all ingredients into a bowl and enjoy!
Some notes:
- You can totally do this with or without chicken. It's so yummy either way!
- You can eat the half of the apple that you didn't chop up for the salad as a snack!
- My faaaaavorite dressing for this salad is Annie's Lite Raspberry Vinaigrette
Information
Category

Salads, Chicken