All the Golden Globes have been handed out, and it was a supremely entertaining night, from the amount of surprise winners to the genuine acceptance speeches to all of Tina and Amy's jokes [1] this year. There were plenty of moments that made the award show worth watching, so see what we picked and let us know what you loved!
Mr. Golden Globe Steals the Spotlight
Each year, we meet Miss Golden Globe, who's historically the daughter of other actors, and young Sosie Bacon was beautiful — but she was completely upstaged by Amy and Tina's bit in which Amy pretended to be Tina's illegitimate grown son Randy. "Randy" wasn't pleased to be there, but we loved this skit.
Matt Damon Continues the Garbage Man Joke
I loved that Matt Damon [2] was such a good sport about Amy and Tina's garbage man joke about him during their monologue that he continued it when he was onstage to present ("It's me, the garbage man"). Aw, we'd never throw you out, Matt.
Emma Thompson's Perfect Presenting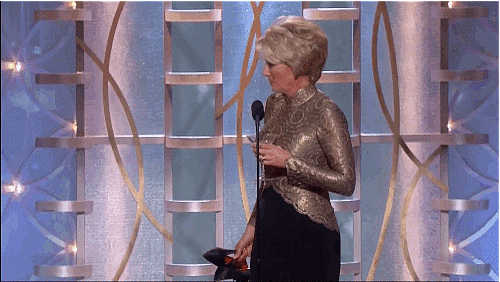 Emma Thompson [3] probably did what every lady at the Golden Globes wanted to do, which was take her high heels off — and she also did what every presenter wanted to do, which was carry her martini on stage. It was entertaining and totally understandable.
Jared Leto Talks About His Tiny Brazilian Butt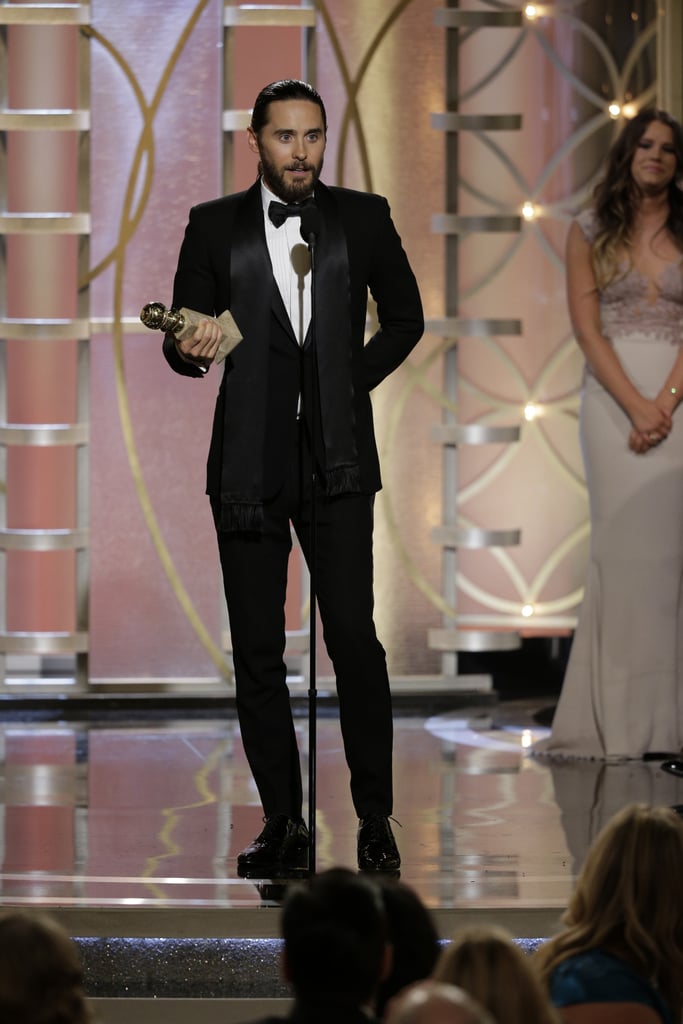 When Jared Leto [4] won best supporting actor, he gave it up for his best supporting body part: his "tiny little Brazilian butt." We're so glad we know that was all Jared Leto in there.
Jonah Hill and Margot Robbie's Teleprompter Fail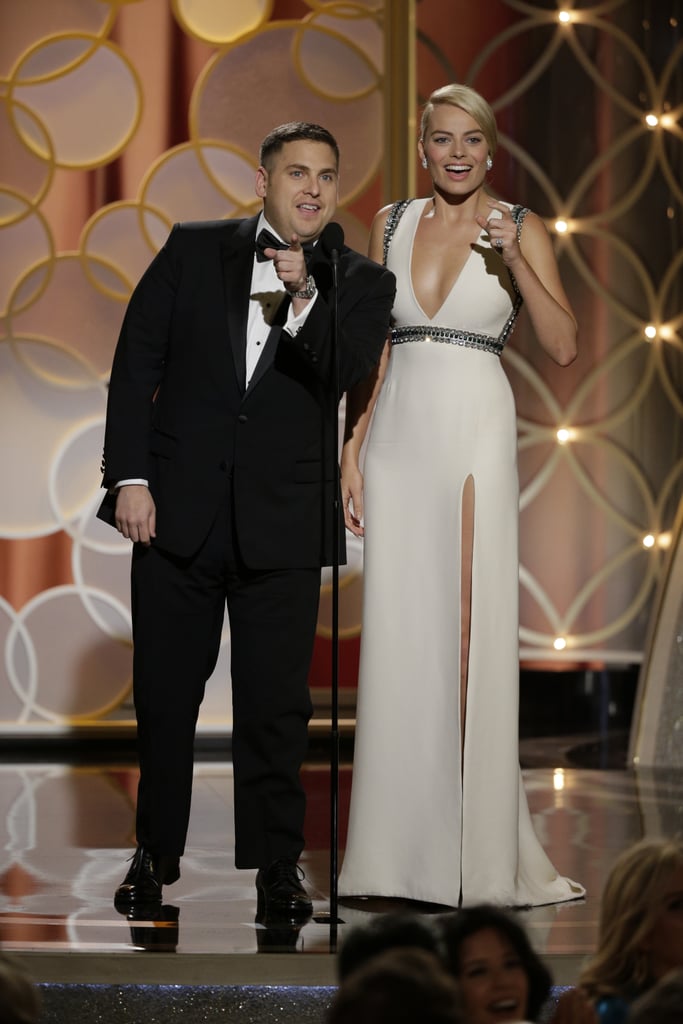 Teleprompters fail all the time during award shows, but The Wolf of Wall Street stars took it in stride and even turned it into a bit. As Hill was frank with the audience about what was going on, the charming Robbie wondered if it was a joke played on her since she was a newbie.
Amy and Tina's Supermodel Joke About Leo
Hosts Amy and Tina usually don't get too raunchy, but their joke about Leonardo DiCaprio [5] ("Like a supermodel's vagina, let's all give a warm welcome to Leonardo DiCaprio") was actually pretty raunchy — but still hilarious. And how priceless was Leo's face? He basically agreed.
Brooklyn Nine-Nine Is the Big Freshman Success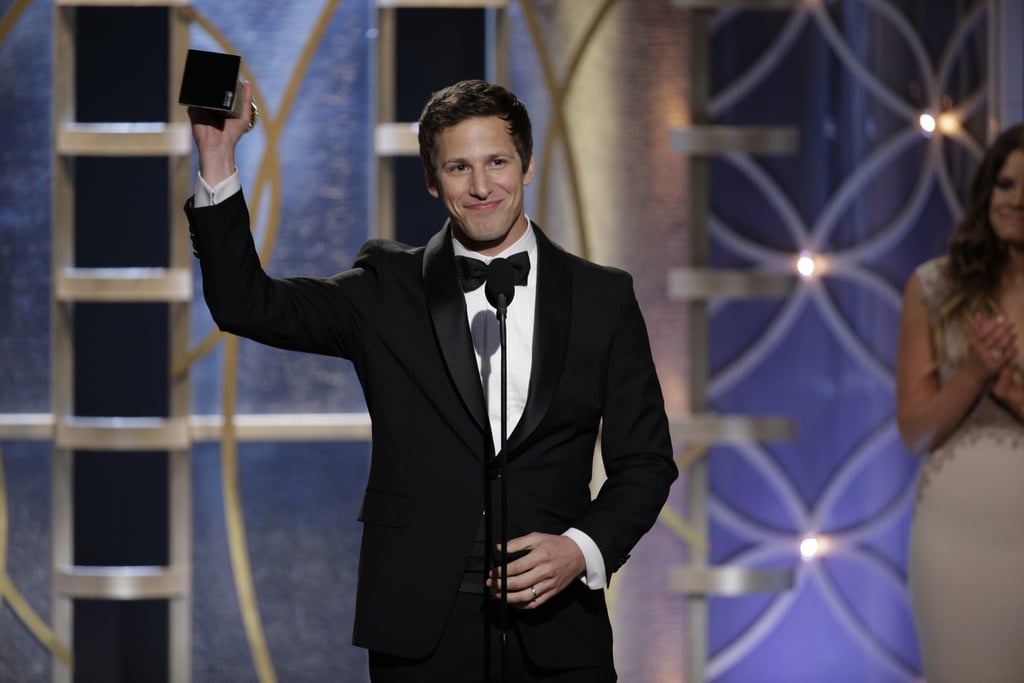 We were surprised that Andy Samberg [6] and Brooklyn Nine-Nine got nominations this year at all, but we couldn't have been happier for both when they won their categories, especially since Samberg was so surprised he won that he had no idea what to say on stage.
Amy Poehler Makes Out With Bono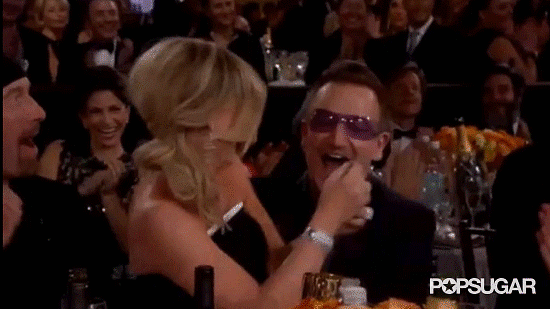 We expected Amy to do something silly when her category was called, and she didn't disappoint. She was all over Bono [7], who played along by massaging her and then letting her make out with his face. Hope his wife's not the jealous type!
Amy Poehler Finally Wins For Parks and Recreation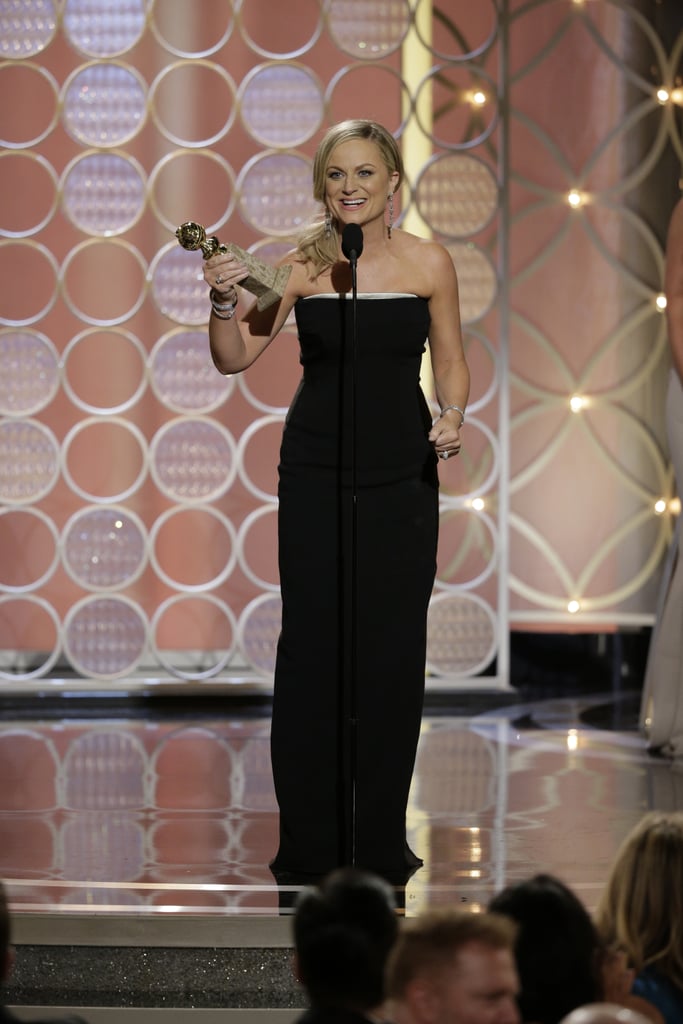 Amy Poehler [8] has been nominated for her role in Parks and Recreation so many times before that we were starting to lose track . . . and hope. Finally, after her third time being up for the lead actress in a comedy, she was recognized for her excellent work on the show, and she was one of the many winners who seemed genuinely shocked and moved.
Jesse Pinkman Gets One More "Yeah B*tch" in There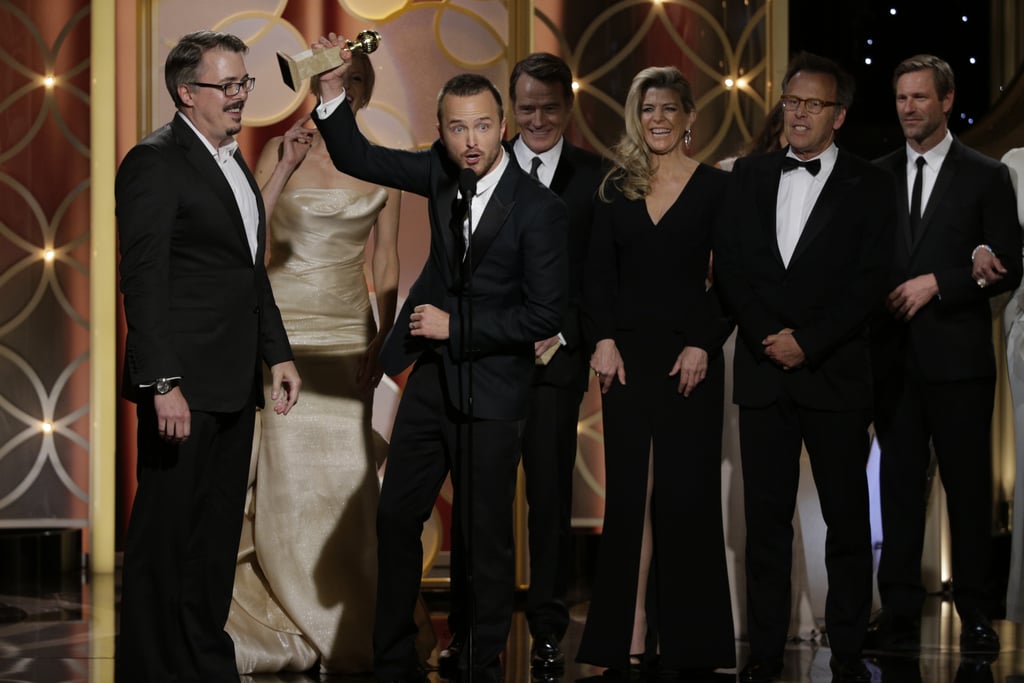 Breaking Bad finally got its due at the Golden Globes when Bryan Cranston won for best leading actor in a drama and the show won for best drama series. The best moment came when creator Vince Gilligan then orchestrated a wildly appropriate moment to end their acceptance speech by having Aaron Paul come up and give one last "Yeah b*tch!"