Honey-Basil Grilled Cheese
Honey-Basil Grilled Cheese
Original Recipe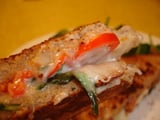 Ingredients
4 slices multigrain bread (I used Vital Vittles 12-Grain)
6 strawberry tomatoes, thinly sliced
3 oz. part-skim mozzarella cheese, thinly sliced with a sharp knife
10 slices fontina cheese, cut with a cheese slicer
12 to 16 large basil leaves
Honey to taste
Butter (to coat bread for grilling)
Directions
Makes two sandwiches.
To make each sandwich, spread one side of each slice of bread with desired amount of butter.
On the opposite side of two of the slices, spread a generous amount of honey, just enough to cover the surface.

Divide the tomatoes between the two sandwiches and arrange the slices on top of the honey. Then, lay four slices of fontina cheese on top of each tomato-topped slice.
Divide the basil leaves between the two sandwiches and lay atop the fontina. Then top each basil-covered slice with the sliced mozzarella. Top with remaining bread slices, butter side up.

Over very low heat, preheat a skillet then grill the sandwiches one at a time. To ensure the cheese melts evenly, cover the skillet with a lid while cooking. Grill each side for about 3 to 5 minutes, until lightly browned.
Information
Category

Main Dishes, Sandwiches