Honeyed Poppyseed Oat Biscuits with Lemony Strawberry Jam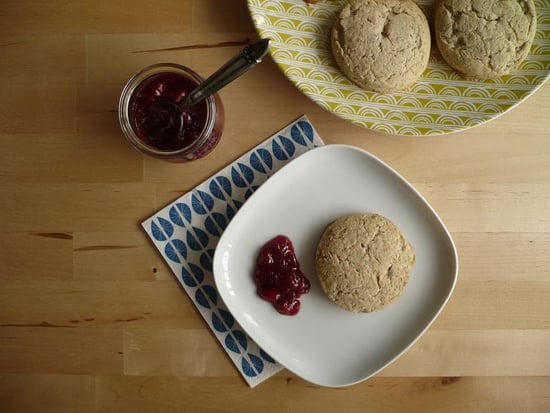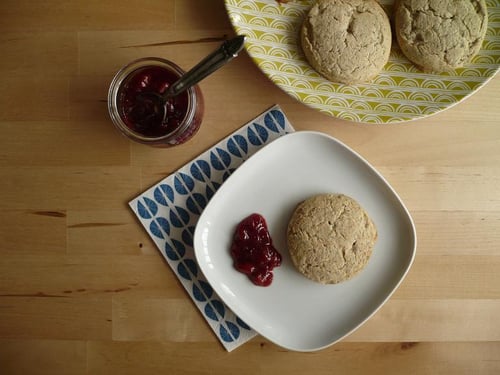 Honeyed Poppyseed Oat Biscuits with Lemony Strawberry Jam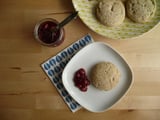 Ingredients
for the biscuits:
notes: If you don't have oat flour, but have whole rolled oats, you can grind them into a flour in your food processor. Just put them in and grind away until you have a flour-like consistency.
6 oz (by weight) oat flour, plus a bit more for rolling out the dough
3 oz arrowroot starch or tapioca starch
1 1/2 tsp ground flax seed
1 3/4 tsp baking powder
1/2 tsp fine grain sea salt
3 oz cold coconut oil (you can put it in the refrigerator about 30 minutes prior to using it)
6 oz cold coconut milk
2 tbsp honey (or agave if making it vegan)
1 tbsp poppyseeds
for the jam:
1 cup diced fresh strawberries
zest of 1 small lemon
1 tbsp fresh lemon juice
about 1 1/2 tbsp honey or agave
Directions
for the biscuits:
Preheat your oven to 350F and line a baking sheet with parchment. Whisk together the oat flour, arrowroot, flax seed, baking powder, and salt in a large bowl until combined. Add the cold coconut oil and cut it into the flour mixture with your fingers until the dough looks sandy and crumbly. Add the coconut milk, poppyseeds, and honey and bring the dough together with a wooden spoon (I like to use a wooden spoon here because it gets quite messy). The dough should hold together but be a bit sticky. Generously flour your work surface and dump the dough out onto it. Sprinkle a bit of flour on the dough and then knead it a few times to bring it together. Using a rolling pin, roll out the dough to 3/4" to 1" thickness and cut out the biscuits with a circular cutter (I used a 2 5/8" cutter and got 8 biscuits). Place the biscuits on your lined sheet about 1 1/2 inches apart (they will puff up and spread a bit) and bake for 15 to 20 minutes until they are puffed and the bottoms/edges are golden. Yields 8 biscuits using a 2 5/8' cutter. Enjoy!
for the jam:
Combine everything in a small sauce pan and cook it over medium-low heat, stirring occasionally until the fruits begins to break down and form a thick, jam-like consistency. This will take around 20 to 25 minutes. When the jam is done, store it in an airtight container in your refrigerator until you are ready to use it. Enjoy!
Information
Category

Breads, Breakfast/Brunch