Indian-Chinese Sweet and Spicy Fried Cauliflower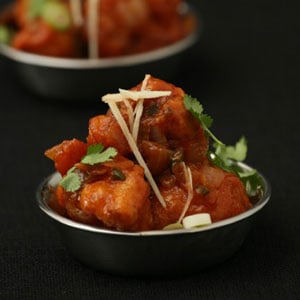 Indian-Chinese Sweet and Spicy Fried Cauliflower
From Saveur magazine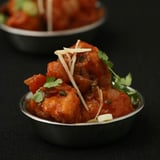 Ingredients
12 cloves garlic
4 2" pieces peeled fresh ginger
(3 cut into thin coins, 1 julienned)
1 head cauliflower, cut into large florets
Kosher salt
2⁄3 cup cornstarch
2⁄3 cup flour
1 tsp. red chile powder
Freshly ground white pepper
2 tsp. plus 3 tbsp. soy sauce
Peanut oil for frying
2 small onions, chopped
8–10 Thai chiles, thinly sliced
1⁄2 cup ketchup
1 1⁄2 tbsp. sesame oil
2 scallions, thinly sliced
Cilantro leaves
Directions
Purée garlic, ginger coins, and 1⁄3 cup water in blender; set aside. Boil cauliflower in a pot of salted water until tender, 6–7 minutes; drain.
Whisk together cornstarch, flour, chile powder, 1⁄2 tsp. salt, and 1⁄4 tsp. pepper in a bowl. Stir in half the garlic paste, 2 tsp. soy sauce, and 3⁄4 cup water to make a batter.
Pour oil into a large deep skillet to a depth of 1"; heat over medium-high heat. Working in batches, dip cauliflower in batter; fry until golden, 5–6 minutes. Using a slotted spoon, transfer to a paper towel–lined plate.
Drain all but about 6 tbsp. of the oil. Add onions; cook for 3–4 minutes. Add chiles and remaining garlic paste; cook until paste is lightly browned, 3–4 minutes.
Add ketchup, remaining soy sauce, sesame oil, and 1⁄3 cup water. Boil; lower heat to medium-low; simmer until thick, 1–2 minutes.
Season with salt and pepper to taste; toss cauliflower in sauce. Garnish with remaining ginger, scallions, and cilantro. Serve with white rice, if you like.
Serves 4.
Information
Category

Vegetables, Appetizers

Cuisine

Chinese