I made this for my 9-month old and found it tasty enough I made it for all of us. Of course, for her I pureed it.
I would suggest doubling if making it for 4.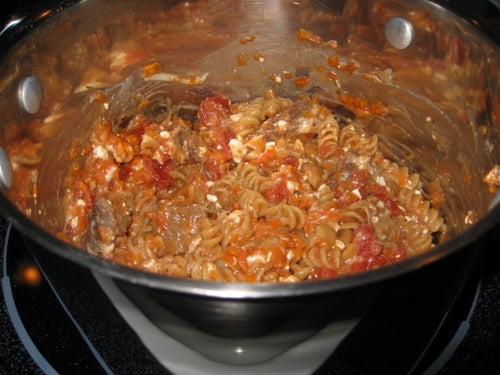 Lasagna Mash
The Baby's Table by Brenda Bradshaw and Lauren Donaldson Bramley, M.D.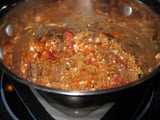 Ingredients
1 can (14 oz) diced tomatoes
1/4 cup water
8 cubes stewing beef
1/4 onion, diced
1 carrot, washed, peeled, sliced
1/2 cup (4 oz) macaroni or other dried pasta
1 tbsp chopped fresh basil (optional)
1/3 cup grated mozzarella
1/2 cup cottage cheese
Directions
In a saucepan, combine first 6 ingredients; bring to a boil.
Reduce heat and simmer, partially covered, stirring occasionally until meat is thoroughly cooked ~25-30 minutes. The consistency should be that of a thick stew.
Remove from heat; add basil and cheese. Stir until cheese melts.
Puree if you want. Yield is about 16 to 18 cubes.
Information
Category

Main Dishes, Beef

Cuisine

Italian