Isn't it pretty? They're very yummy, too. The lemon flavor is subtle and not over powering--which is good, too, so if you want a bit more lemon flavor, add another tablespoon of lemon juice and more lemon zest. Also notice that the 1/4 C of butter (Earth or Smart Balance) needs to be melted and then cooled, so I recommend doing this step first so it has time to cool down. The recipe makes 10 small muffins, but I decided to make 6 large muffins. I haven't tried this recipe as a bread loaf, but I don't see why that wouldn't work. The recipe does suggest that if you like fresh ginger, substitute the poppy seeds with 3 tablespoons of peeled, grated fresh ginger. Another variation would be to add about a cup of dried or fresh blueberries or strawberries.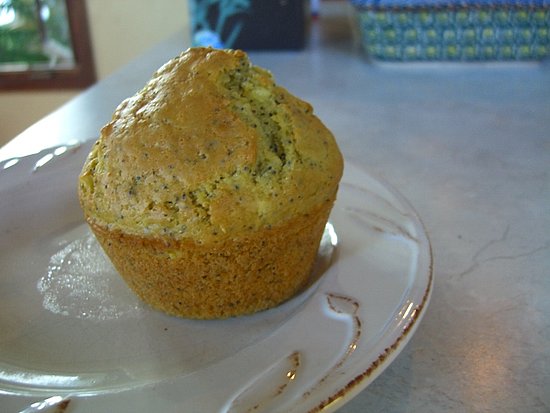 Also, think about preparing a lemon or raspberry glaze to drizzle on top....1 cup icing sugar, 2 tablespoons fresh lemon juice (or raspberry flavoring), dash of dairy-free milk for drizzle consistency.
Lemon Poppy Seed Muffins
Recipes for Dairy-Free Living cookbook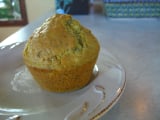 Ingredients
2 C flour
1 Tbs baking powder
1/2 tsp baking soda
1/4 tsp salt
1/2 C sugar
2 Tbs poppyseeds
2 large eggs
1 C rice or soy milk ( I used soy milk--I find it cooks better because it's thicker)
1 Tbs freshly squeezed lemon juice
1/4 C margarine, melted and cooled (Again, I used Earth Balance sticks)
2 Tbs chopped lemon zest (from 3-4 lemons, but I got that much from just 2)
Directions
Position the oven rack in the center and preheat to 400. Coat muffin pan with cooking spray and set aside.
Combine the flour, baking powder, baking soda, salt, sugar and poppyseeds. Mix together with a whisk until blended. In another bowl, whisk together the eggs, soy milk, lemon juice, margarine and zest until well blended. Stir the egg mixture into the flour mixture until just combined, taking care not to overmix the batter. It should look lumpy.
Spoon the batter into the prepared muffin tins, filling each cup 2/3 full. Any cups that are not filled with batter should be filled halfway with water to allow for even baking. Bake muffins until golden brown adn tester inserted in the center comes out clean, about 20 mins. Let cool for about ten minutes, then transfer muffins to a wire rack and cool completely. Enjoy!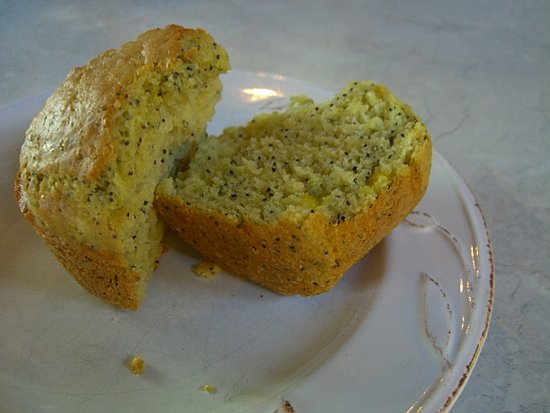 Information
Category

Breads, Muffins