Light Quinoa and Avocado Tabbouleh Verrines
This light salad is perfect for a picnic with the family or pack along weekday lunch. It's loaded with veggies, giving it a cool and crisp taste, perfect for the spring!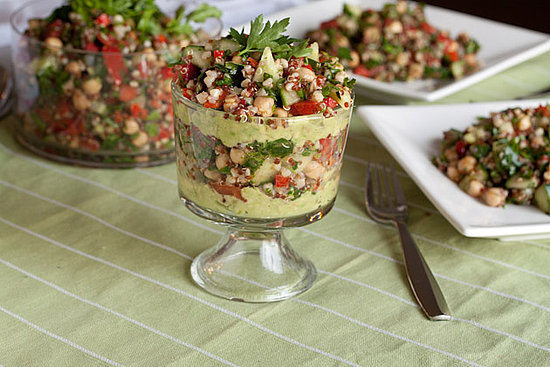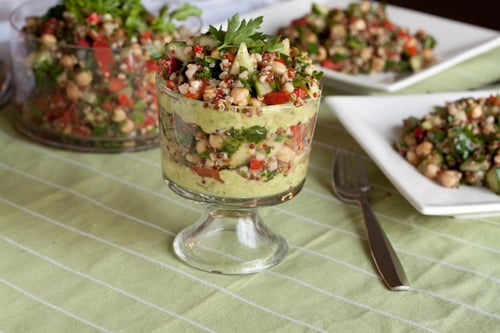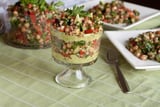 Ingredients
Salad
* 1/2 cup raw buckwheat groats
* 1/2 cup raw red quinoa*
* 3 cups vegetable broth (or 3 cups water and 1 vegetable bouillon cube)
* 2 cups curly parsley, chopped finely
* 2 cups cooked chickpeas
* 3 tomatoes, chopped
* 1 English cucumber, chopped
* 2 red peppers, chopped
* 6 green onion, chopped
* 1/4 red onion, chopped
Avocado layer
* 3 avocados
* 2 tbsp lemon juice
* Himalayan rock salt + pepper, to taste
Dressing
* 2 cloves garlic, minced
* 1/4 cup extra virgin olive oil
* 1/4 cup lemon juice
* 1 tbsp mustard
* 1/4 tsp Himalayan rock salt
* black pepper, to taste
Directions
Prepare the quinoa + buckwheat: place in a pot with 3 cups vegetable broth. Cover, bring to a boil, reduce heat, and let simmer for 25-30 minutes, until tender. Remove from heat and remove lid. Allow to cool.
Meanwhile, finely chop all the vegetables but avocado and place into a large bowl with chickpeas. Set aside.
Mash avocado in a small bowl with 2 tbsp of lemon juice. Set aside.
In a small bowl, combine all dressing ingredients and stir until combined.
Once cooled, add quinoa and buckwheat to vegetable bowl. Pour on the dressing and stir well.
To make verrines: layer a bowl or parfait cup with avocado + salad until desired serving is made.
Information
Category

Grains , Salads