Matt Damon [1] joined up with his Behind the Candelabra costar Michael Douglas to premiere their new film at the Cannes Film Festival today. Matt also had his wife Luciana by his side and they snapped pictures of all the action as they made their way down the carpet. Matt and Michael are screening their HBO project in the South of France before it officially hits the small screen on Sunday, May 26. Earlier in the day, Matt and Michael attended a photo call and a press conference. They have been doing quite a bit of press for the biopic, which follows Liberace, played by Michael, and his young lover, played by Matt. Naturally, a story about a couple had to involve love scenes, and Michael revealed in a recent interview he wasn't exactly put off by the idea of kissing one of America's best-looking actors. He said, "As far as making out with Matt, it's not so bad. We rehearsed the scenes. For me, I guess the biggest thrill is, when I first saw it, after a few minutes, I really forget it's Matt. Matt and Mike, you know? I just forget it's us."
Matt is in Cannes after wrapping up filming for his upcoming film with George Clooney [2], The Monuments Men, in Germany. The pair celebrated finishing the film by having a boys weekend at George's Lake Como estate [3] earlier this month.
Matt Damon [4] and Michael Douglas stood on the steps of the Palais in Cannes with producer Jerry Weintraub.
Matt Damon [5] snapped a photo on his phone.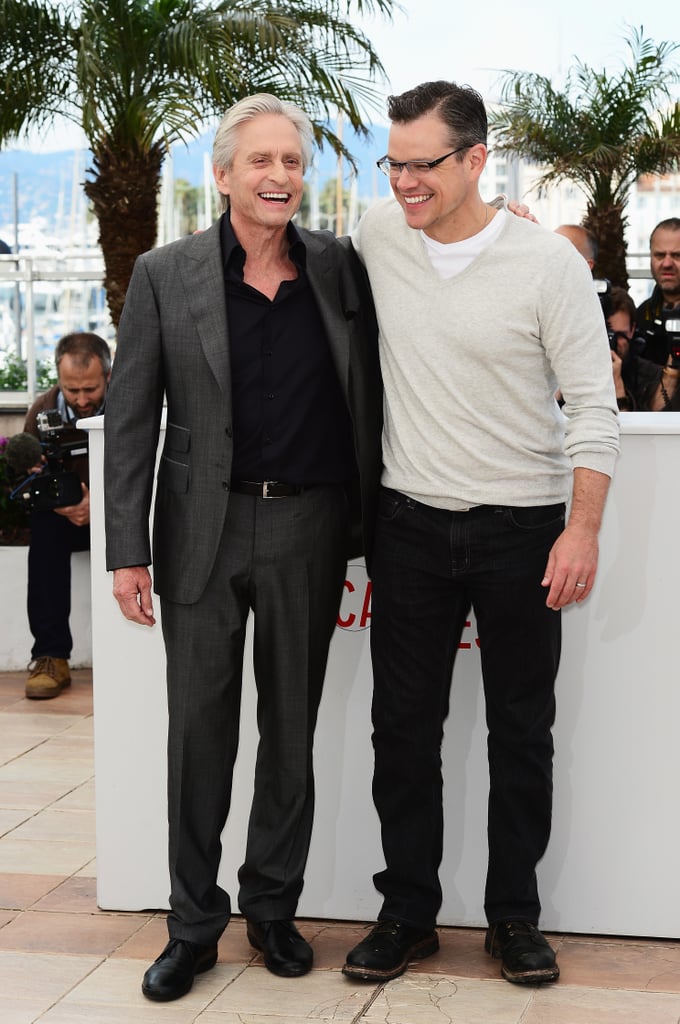 Matt Damon [6] shared a laugh with Michael Douglas at the Behind the Candelabra photocall.
Matt Damon [7] chatted with producer Jerry Weintraub and writer Richard Lagravenese at the premeire.
Matt Damon [8] chatted with Michael Douglas in Cannes.
Matt Damon [9] and Michael Douglas waved to the crowd.
Matt Damon [10] wore glasses and a white V-neck sweater.