Mediterranean Zucchini Boats
It's official.  Summer is upon us, and one of my favorite summer foods is the zucchini.  I remember my mom bringing home zucchinis that were almost as big as a baseball bat each summer while I was growing up.  There is something about the summer that just makes the zucchini taste that much better.  Because I love zucchini so much, I thought I would make a delicious summer meal out of one.  Enjoy!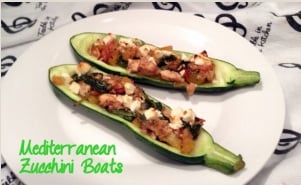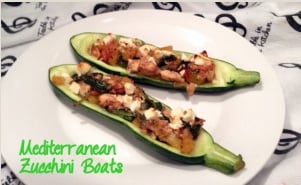 Mediterranean Zucchini Boats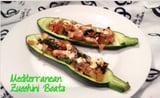 Ingredients
2 small-medium zucchinis
a splash of balsamic vinegar
1 tsp of garlic salt (or more to taste)
1 tsp dried basil
1/4 cup chopped tomato
1/2 cup chopped bell pepper
1/5 block of tofu (pressed and cut into small pieces)
2 cups of baby spinach
1/4 cup low fat cottage cheese
1/4 cup reduced fat feta
Directions
Begin by preheating the oven to 375 degrees.  Cut each zucchini length wise, and scoop the center out of each half of the zucchini.  Place on a baking sheet.
In a medium skillet heated to medium high heat, place the balsamic vinegar, bell pepper, tomato, tofu, garlic salt, and basil until slightly browned.
Once browned add in the spinach and allow the spinach to wilt.  Once the spinach is wilted, add in the cottage cheese and combine thoroughly.
After the cheese, tofu, and vegetable mixture is thoroughly combined, scoop even portions into each zucchini boat. Top each zucchini boat with the feta cheese.
Calories–163  Fat–8.2g  Carbs–14.1g  Protein–18.4g
For more recipes just like this, check out my blog, Treble in the Kitchen!
Information
Category

Main Dishes, Tofu

Cuisine

Mediterranean/Middle Eastern