I made this corn a few weeks ago and now the hubby said he will never be able to eat 'normal' corn again. It was amazing!! Not exactly healthy but a nice way to change corn up. The ingredients scared me but honestly give it a try, it was delish!
The recipe is for 6 ears of corn but I usually half the mayo mixture for 2. :)
Mexican Street Corn
The Best International Recipe book by Cook's Illustrated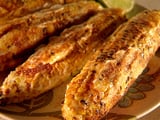 Ingredients
6 large ears of corn, silk & husks removed
Pam spray
Sauce Mixture:
½ cup mayonnaise
2 tablespoons minced cilantro
1 tablespoon lime juice
1 medium clove of garlic minced
1 teaspoon of chili powder
Salt & pepper
¼ cup cheese quesco fresco (I used feta, cheddar, whatever I had)
Directions
Adjust an oven rack to 5 inches below broiler. Heat the broiler on high.
Prepare a cookie sheet with aluminum foil. Remove husks & silk from corn. Spray each cob with Pam . (I do this in the sink so I am not getting Pam all over the cookie sheet).
Broil the corn for 8mins (book says 10, so play with your oven) until the kernels are brown… flip corn and broil for another 8mins. While corn is broiling prepare the sauce.
Mix the mayo, cilantro, lime juice, garlic (whole clove still if u half recipe), chili powder, cheese and salt & pepper in a small bowl.
When corn is done, remove cookie sheet from oven and brush the sauce on all sides of corn. Toss the cookie sheet back under broiler for 1-2mins.
Done. Enjoy!
Serving Size: 6
Time: 25mins prep & cook

Food Network Photo
Information
Category

Vegetables, Side Dishes