My Dad's Famous Stuffing
My Dad's Famous Stuffing
Growing up, this was the best stuffing ever!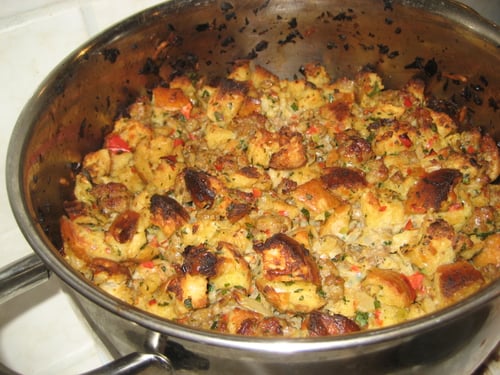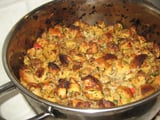 Ingredients
1-1/2 cups chicken broth
1/4 cup (1/2 stick) margarine, cut into pieces
1 pkg. (6 oz.) stove top stuffing mix
1 tablespoon butter
1 lb Italian sausage, casings removed
2 cloves garlic, minced
1 onion, diced
1 red pepper, diced
2 stalks celery, finely chopped
1 cup mushrooms, chopped
2 tablespoons fresh chopped parsley
1 teaspoon poultry seasoning
salt and pepper
Directions
Bring chicken broth and margarine to boil in medium saucepan. Add stuffing; stir just until moistened. Set aside.
Heat the butter in a large saute pan over medium heat. Saute the Italian sausage breaking it into pieces while cooking until browned 10-15 minutes.
Add the garlic, onion, red pepper, celery, and mushrooms to the pan with the sausage. Cook, stirring until the vegetables are soft and tender another 10 minutes.
Add the seasoning and salt and pepper to taste.
Stir the vegetable sausage mixture in with the stuffing mixture. At this point you can cover and refrigerate until ready to bake. To serve, add to oven to bake with the turkey for the last 30 min. of the turkey baking time.
Serves 10-12.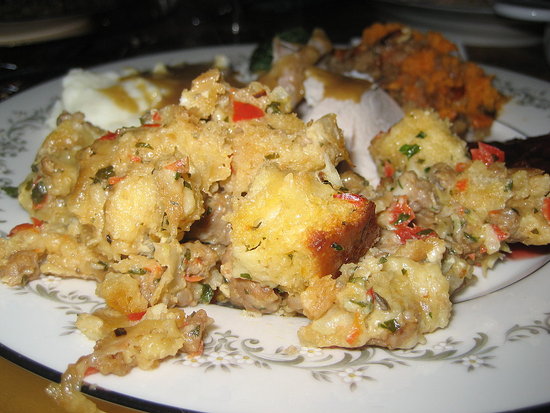 Information
Category

Side Dishes, Stuffing/dressing