Oatmeal-Cinnamon Chip Cookies
If you can't find cinnamon chips (Hershey's is the easiest brand to find), substitute chocolate chips.
4 dozen cookies
PER COOKIE: 140 calories, 7 g total fat (4 g saturated fat), 1.5 g protein, 18.5 g carbohydrate, 15 mg cholesterol, 45 mg sodium, 1 g fiber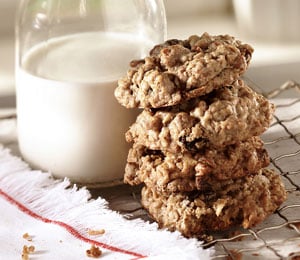 Oatmeal-Cinnamon Chip Cookies
cook book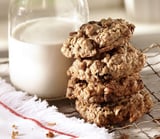 Ingredients
1 cup unsalted butter, softened
1 cup packed brown sugar
1/2 cup sugar
1 egg
1/4 cup water
2 teaspoons vanilla extract
1 cup all-purpose flour
1/2 teaspoon salt
1/2 teaspoon baking soda
1/2 teaspoon ground ginger
1/2 teaspoon ground cinnamon
1/2 teaspoon ground nutmeg
3 cups coarsely chopped old-fashioned oats*
1 (10-oz.) pkg. cinnamon chips
1 cup raisins or chocolate-covered raisins
1/2 cup chopped pecans or walnuts
Directions
. Heat oven to 350°F. Beat butter, brown sugar and sugar in large bowl at medium speed until light and fluffy. Beat in egg until well-combined. Add water and vanilla, beating well and scraping down sides and bottom of bowl, if necessary.
2. Combine flour, salt, baking soda, ginger, cinnamon and nutmeg in medium bowl until blended. Stir flour mixture into batter, along with oats. Stir in cinnamon chips, raisins and pecans. Drop by rounded tablespoons onto baking sheets 1 inch apart.
3. Bake 12 to 15 minutes or until just set and pale brown. Cool on baking sheet on wire rack 1 minute. Place cookies on wire rack; cool completely.
TIP *To coarsely chop oats, pulse in food processor.
Information
Category

Desserts, Cookies