The cornmeal gives this healthy breakfast a fun crispy, crunchy texture while the orange provides a light, refreshing flavor.  It's vegan too!!
Serves 1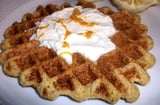 Ingredients
For waffle:
3 tbsp whole wheat pastry flour
3 tbsp cornmeal (mine was finely ground)
1 1/2 tsp ground flax
1/2 tsp baking powder
1.5 tsp sugar
1 tbsp applesauce
3 tbsp almond milk
1 1/2 tsp orange zest
For topping:
2-3 tbsp ricotta (or greek yogurt)
juice of one orange wedge
Directions
Heat up your waffle iron.  Mix flour, cornmeal, flax, baking powder and sugar in a small bowl..  Add remaining ingredients and stir until just combined.  Pour onto waffle iron and cook until crisp!
For the topping, combine ricotta or yogurt and orange juice.  Garnish with extra orange zest if you want to be fancy!
Information
Category

Breakfast/Brunch, Pancakes/Waffles