Panna Cotta With Raspberry Sauce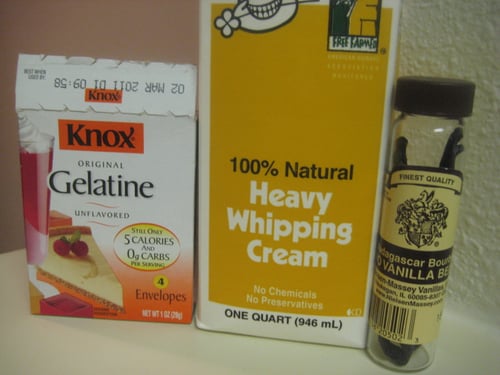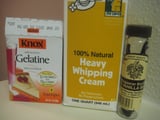 Ingredients
2 teaspoons unflavored gelatin (from one envelope)
3 cups heavy cream
1 vanilla bean
1/2 cup granulated sugar
fresh raspberries, optional for garnish
Directions
Place six 3 1/2-ounce ramekins (3 inches in diameter, 1 1/2 inches deep) on a rimmed baking sheet. Refrigerate until cold.
Put 3 tablespoons cool water into a medium bowl. Sprinkle with gelatin; let stand until gelatin has softened, about 5 minutes.
Meanwhile, place the cream, vanilla bean, and sugar in a saucepan and bring to a simmer. Remove from the heat.
Remove the vanilla bean and split lengthwise. Scrape the vanilla beans into the cream.
Pour cream mixture into bowl with gelatin; whisk until gelatin has dissolved.
Pour through a sieve into a bowl. Pour cream mixture into chilled ramekins. Refrigerate until set, about 2 hours.
To remove from the mold: Dip the bottom of the mold into a pot of hot water to loosen the panna cotta. Slide a knife around the edge, then carefully turn over onto a serving plate.
Drizzle with the raspberry sauce and garnish with fresh raspberries, if desired.
Makes 6.
*I halved the recipe and used a strawberry jam since it is what I had on hand.
Information
Category

Desserts, Puddings/Mousse