Kate Middleton made what many believe will be her very last public appearance in London yesterday when she attended the Trooping the Colour parade. She wore a pale pink Alexander McQueen coat as she rode alongside Camilla, Duchess of Cornwall, and Prince Harry at the annual event that serves as a belated public celebration of Queen Elizabeth II's birthday. Prince William and Prince Charles did not ride with Kate's group as they were taking part in the military ceremony alongside Anne, Princess Royal. Prince William is the Colonel of the Irish Guards while Charles is the Colonel of the Welsh Guards and Anne is the Colonel of the Blues and Royals, so they all rode in the ceremony on horseback. Later, the whole group met up, along with Princesses Beatrice and Eugenie and other royals, to look out from the balcony at Buckingham Palace. Notably absent was Prince Philip, Duke of Edinburgh, who is still recovering in the hospital after undergoing surgery. Princes Harry and William paid their grandfather a visit at the hospital yesterday, fueling speculation that he was on the mend.
The Duchess of Cambridge's visit to the Trooping the Colour comes just two days after she made her final solo appearance on Thursday in Southampton. She was on hand to christen a Princess Cruises ship, which, interesting enough, Princess Diana also did in 1984. Be sure to check out all of Kate Middleton's official appearances [1] while pregnant, and don't forget to weigh in on the royal baby's name [2] before Kate gives birth in July!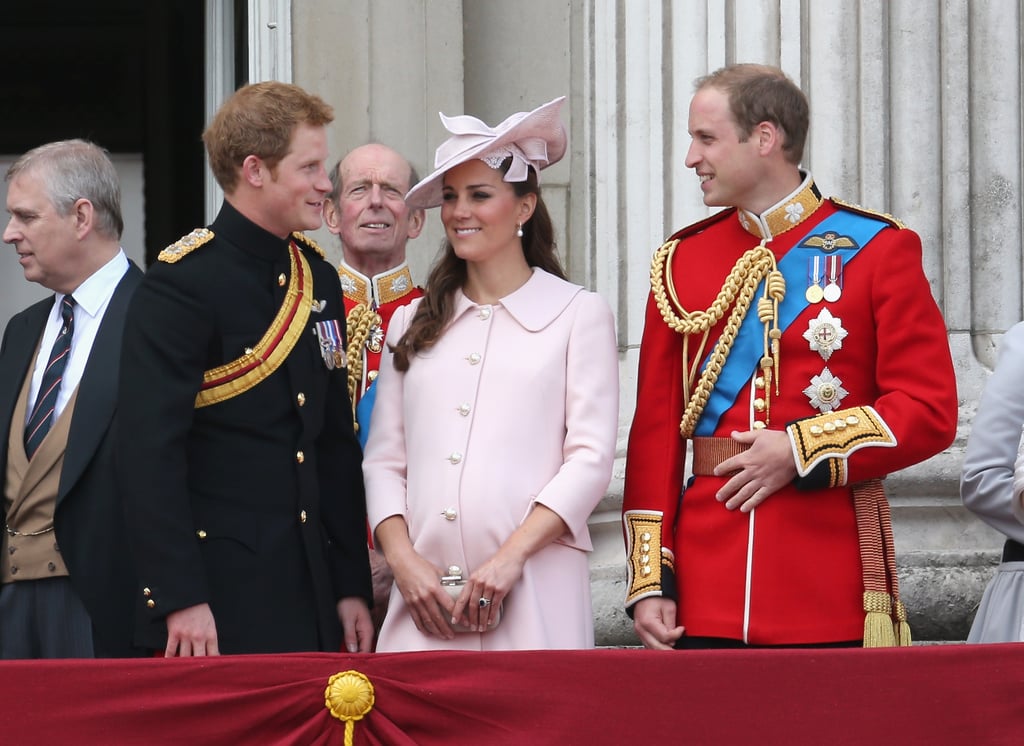 Kate Middleton and Camilla chatted with Prince Harry.
Prince William participated in the Trooping the Colour ceremony.
Kate Middleton sat next to Camilla, Duchess of Cornwall.
Prince William rode alongside Prince Charles and Anne, Princess Royal.
Princesses Beatrice and Eugenie rode in a carriage with their father, the Duke of York.
The queen looked out at the crowd from her carriage.
Kate Middleton, Prince Harry, and Camilla, Duchess of Cornwall, waved to the crowd.