Recipe For Smoked Salmon Sandwiches With Avocado and Wasabi Cream Cheese
Smoked Salmon Sandwiches With Avocado and Wasabi Cream Cheese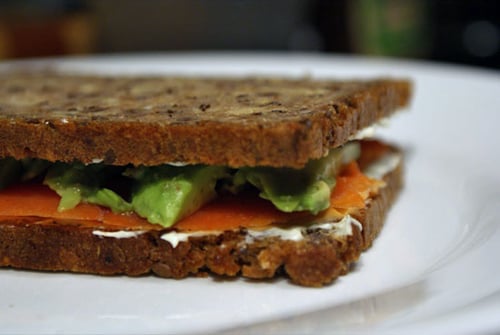 Smoked Salmon Sandwiches With Avocado and Wasabi Cream Cheese
Modified From Dave Lieberman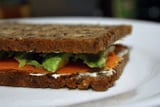 Ingredients
1 tablespoon wasabi powder
2 teaspoons water
8 ounces cream cheese, room temperature
8 slices German-style rye bread
1 ripe Hass avocado
1/2 lemon
8 ounces smoked salmon, thinly sliced
Directions
Mix wasabi powder and 2 teaspoons water in medium bowl to form paste. Add cream cheese and stir with a rubber spatula until well combined.

Place all bread slices on work surface. Spread each slice with a thin, even layer of the cream cheese.

Cut the avocado in half lengthwise and twist the 2 halves apart and remove the pit. Use a spoon to remove the avocado flesh from one half. Slice the each half into 1/8-inch slices. Place the avocado slices in a bowl and squeeze juice from 1/2 lemon over avocado slices and toss gently.
Cover each bread slice with a single layer of salmon, followed by a layer of avocado slices.

Top each sandwich with remaining slice of bread.
Makes 4 sandwiches.
Information
Category

Main Dishes, Sandwiches