Roasted Turkey Breast With Corn Bread-Sage Stuffing and Brandy Gravy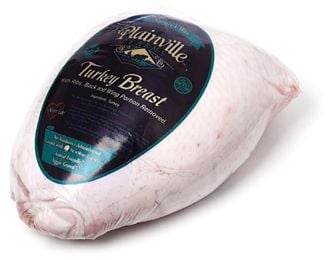 Roasted Turkey Breast With Corn Bread-Sage Stuffing and Brandy Gravy
From Epicurious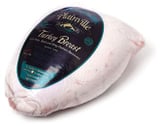 Ingredients
For stuffing:
2 tablespoons unsalted butter
1 small red onion, finely chopped
2 stalks celery, finely chopped
1 garlic clove, minced
1/4 teaspoon freshly grated nutmeg
1/4 teaspoon freshly ground black pepper
1 bay leaf
2 tablespoons finely chopped fresh sage
1/2 cup chicken stock
4 cups stale corn bread, crumbled into large pieces*
2 large eggs, beaten
For turkey:
One 3 1/2- to 4-pound bone-in turkey breast, halved at the breast bone**
1 1/2 tablespoons olive oil
For gravy:
One 1 1/2-ounce container veal or chicken demi-glace
1 tablespoon brandy***
1 tablespoon unsalted butter
1/2 cup heavy cream
Directions
Make stuffing: preheat oven to 425°F and grease 9-by 13-inch roasting pan.
In large skillet over moderately high heat, melt butter. Add onion, celery, garlic, nutmeg, pepper, and bay leaf, and sauté until vegetables soften, 5 to 6 minutes. Stir in sage and cook 30 seconds more. Stir in stock and simmer, uncovered, until liquid is reduced by half, about 3 minutes.
Put corn bread in large bowl and pour vegetables over. Toss to mix well. Add eggs and stir to combine.
Make turkey: rinse breast halves and pat dry. Season generously with kosher or coarse sea salt and freshly ground pepper, and rub all over with olive oil.
Mound stuffing in center of roasting pan and arrange turkey on top, making sure breast halves aren't touching. Roast until thermometer inserted into thickest part of turkey (do not touch bone) registers 170°F and juices run clear when pierced with fork, 45 to 55 minutes.
Make gravy while turkey is roasting: In small saucepan over moderately high heat, combine demi-glace, 1/2 cup water, and brandy. Bring to boil, stirring until smooth.
Stir in butter, reduce heat, and simmer uncovered, stirring often, until gravy thickens, about 1 minute. Stir in cream and season with freshly ground pepper. Serve hot, over turkey and stuffing.
Serves 4.
*If your corn bread isn't stale, spread out slices on a baking pan in a 200°F oven until they feel dry and crumbly. (Depending upon how moist the loaf is, this can take anywhere from 20 minutes to an hour.) Then crumble up the slices. Any leftover stale bread — rolls, focaccia, even bagels — can be substituted for the corn bread.
**It's easiest and fastest to ask your butcher to split the turkey breast in half for you. But this can also be done at home: Use a heavy, sharp knife and don't be afraid to whack the breast at the wishbone several times until it comes apart. Slicing the skin down along the breastbone before you start cutting is also helpful.
***In the gravy, bourbon, whiskey, wine, port, or vermouth can be used instead of brandy.
Information
Category

Poultry, Main Dishes

Cuisine

North American