Yep, they are as good as they look! They are also simple to make and you can either grill them or bake them in the oven. I went the oven route as I was afraid they'd fall apart on the grill. These go great with the cole slaw that I made earlier today, which can also be easily thrown together while the burgers are baking.
Spicy Black Bean Burgers
Original recipe
Ingredients
1-15 ounce can black beans, drained and rinsed
1/2 green bell pepper, chopped
1/2 onion, chopped
1 tsp egg replacer powder
1 C cooked brown rice (1/2 cup dried with 1/2 cup water)
1 Tbs chili powder
1 Tbs cumin
2 tsp garlic, minced
salt and pepper to taste
1/8-1/4 C bread crumbs
Hamburger buns
Optional ingredients: sliced avocado, sliced tomato, iceberg lettuce, Tofutti cheese slices
Directions
If using the oven, preheat it to 375, otherwise, heat the grill. Also, this is a good time to get the brown rice cooking—I used the instant stuff. In a medium bowl, mash the black beans. (I find that a pastry blender works great for this). Mash them up as much as you'd like—I prefer to have some chunkiness to the burger, so I don't go overboard with the mashing.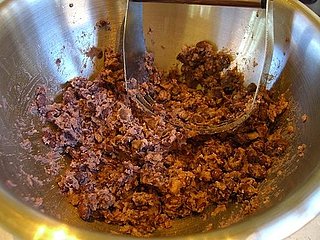 In a food processor, combine the green pepper, onion, and garlic. Just pulse it a couple of times, otherwise it'll turn soupy and you don't want that! Add to the black beans and mix in. Then add the cooked rice, egg replacer, chili powder, cumin, salt, pepper and bread crumbs. Stir well to combine.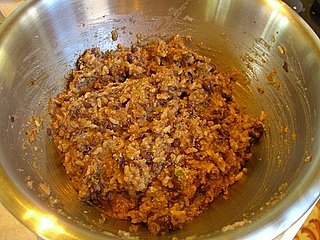 Shape into patties. (I got 5 large patties). If using the oven, place patties on a baking sheet lined with greased foil.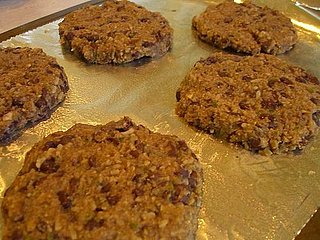 Bake about 12-15 minutes on each side. If grilling, cook about 8-10 minutes per side over medium heat.If using cheese, add slice for the last minute of baking, or until it melts a bit.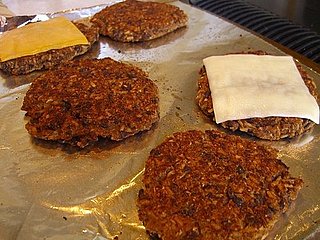 Top with your favorite burger ingredients and enjoy!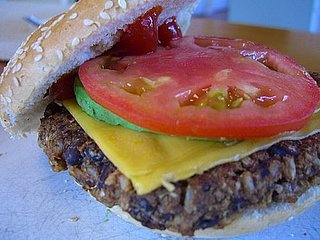 Information
Category

Main Dishes, Beans