Strawberry Daiquiri Cupcakes
Perfect for the summer, a day with the girls, a bridal shower, etc.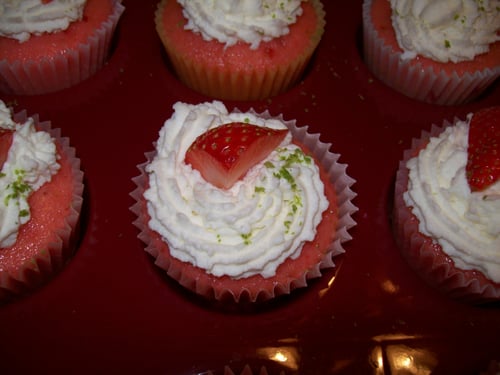 Strawberry Daiquiri Cupcakes
Dierberg's Everybody Cooks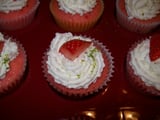 Ingredients
2 teaspoons grated lime peel
2 tablespoons fresh line juice
2 tablespoons light rum
1 box strawberry supreme cake mix
Daiquiri Whipped Cream (recipe follows)
6 fresh strawberries with caps, quartered (optional)
Greated lime peel (optional)
Daiquiri Whipped Cream
2 cups 40% gourmet heavy whipping cream
1/4 cup powdered sugar
3 tablespoons light rum
Directions
Cupcakes:
In a 2-cup glass measure, combine lime peel and juice with rum, add water to equal amount called for on cake mix package. Prepare cake mix according to package directions, substituting lime/rum mixture for water. Line 24 muffin cups with paper baking cups, filling about 2/3 full. Backe in 350ºF oven until wooden pick inserted in center comes out clean, about 15 to 17 minutes. Remove cupcakes from pans; place on wire racks and cool completely.
Spread or pipe Daiquiri Whipped Cream onto cupcakes. Store in refrigerator. If desired, garnish with quartered strawberries and grated lime peel. Makes 24 cupcakes.
Daiquiri Whipped Cream:
In large mixing bowl, beat cream, powdered sugar, and rum at high speed until stiff peaks form.
Information
Category

Desserts, Cupcakes