Sweet Potato and Chicken Chowder
Soup-tastic Adventures: Soup #9: Sweet Potato & Chicken Chowder
July 19, 2010
Soup #9: Sweet Potato & Chicken Chowder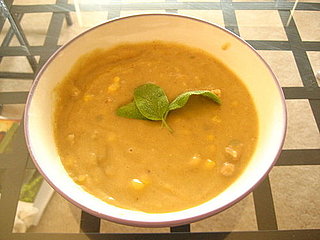 One of the biggest perks of living in California for the summer is watching my tiny bit of a garden grow.  The spinach seeds I planted seemed to sprout overnight; my basil has turned into a jungle; and I can actually see the jalapenos growing!  For someone who has never had much of a green thumb but has always tried, this is awesome.  One of the herbs that needed a bit of trimming is my sage, so I scoured my recipe books for something that would call for some sage.  This soup immediately caught my eye.  Not only does it call for 2 T of sage, but sweet potatoes are a main ingredient, and my boyfriend could probably live off sweet potatoes.  I've never actually cooked anything with them, but every time we go out, if there's an item on the menu involving sweet potatoes, that's the one he'll order.  I decided to give it a shot.  He LOVED it, but I thought it was just okay.  I added the corn as an afterthought, and that helped, but I still think it needs something.  Perhaps cilantro?  Perhaps the chicken needs to be marinated in something overnight?  If you have any suggestions, let me know.  He said this is a recipe I have to hold on to, but I want it to be something we BOTH enjoy.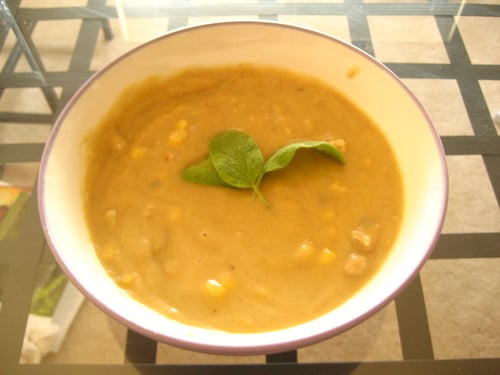 Soup-tastic Adventures: Soup #9: Sweet Potato & Chicken Chowder
Adapted from Food & Wine, February 2002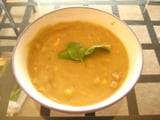 Ingredients
2 T unsalted butter
1 lbs skinless, boneless chicken thighs (or breasts, or combo of breasts & thighs), cut into 1-inch pieces
1 medium onion, finely chopped
3 medium leeks, white and light green parts only, thinly sliced
2 large sweet potatoes, peeled and cut into 1/2 -inch dice
3 c chicken stock or canned low- sodium broth
2 T sliced fresh sage
1 T minced flat-leaf parsley
1 bay leaf
Salt and freshly ground white pepper
1 c whole milk
1 c frozen corn
Sage leaves for garnish
Directions
Melt the butter in a large saucepan.  Add the chicken, cook over moderately high heat stirring until golden, about 2 minutes.  Transfer to a plate.
Add the onion and all but 1 T of the leeks and cook, stirring often, until softened, about 5 minutes.  Add the sweet potatoes and cook for 3 minutes.  Add the chicken stock, sage, parsley, bay leaf, salt, and white pepper (I would use about 1 t of each initially at this point).  Bring to a boil.  Cover and simmer over moderately low heat for about 10 minutes.
Remove the bay leaf and reserve, then transfer everything to a blender and puree.  Return to pot, add the bay leaf, chicken, and corn.  Simmer for about 10 more minutes, or until chicken is white throughout.
Stir in the milk and season with salt and pepper.  Simmer the chowder for about 5 more minutes, then discard the bay leaf.
Serve the chowder hot, garnished with the remaining leeks and sage leaves.
*I found it was necessary to add a whole lot more salt and pepper, so make sure you taste throughout the cooking process to adjust accordingly.
*Makes about 5-6 servings
Information
Category

Soups/Stews, Chowder