Sweet and Spicy Chinese Eggplant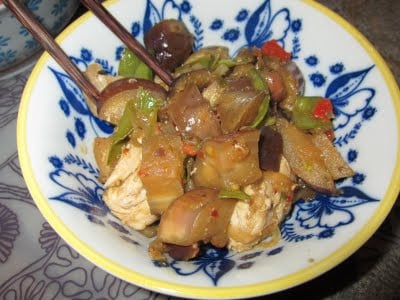 This was originally posted on my blog, WeekendsSoSweet.com::
Eggplant is one of my favorite things to order at a Chinese or Thai restaurant. It is soft, warm, filling and somehow manages to soak up more delicious sauce than anything else on the menu. I generally choose to ignore how much oil eggplant dishes are soaking in and feel proud of myself for eating a giant plate of vegetables :) Unfortunately when you make eggplant at home you have the unfortunate vantage point of knowing exactly what is going into your dish! After a lot of near hits and major misses I finally found a healthy way to make delicious asian eggplant --all hinging on a key ingredient, Asian Sweet Chili sauce. With just a little of this sweet sauce and a few other simple ingredients, you too can make delicious asian eggplant without a ton of oil or corn starch!
Here's the simple recipe! You can find the asian chili sauce and the seasoned rice vinegar in the international foods aisle and chinese eggplant is available in most good grocery stores. If you can't find it, try a smaller regular eggplant.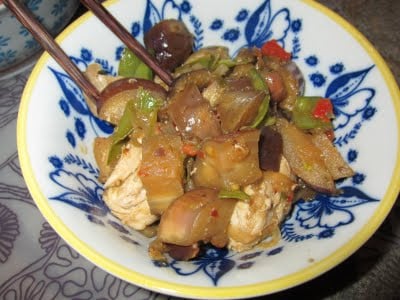 Sweet and Spicy Chinese Eggplant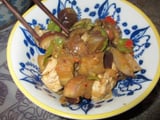 Ingredients
1 Chicken breast and 2 thighs (or 2 chicken breasts) -all should be boneless and skinless
2 chinese eggplant (long and thin) -slice into bite size pieces
2 tablespoons dark sesame oil
1/2 chopped onion
1 handful chopped snow peas
1 small red bell pepper chopped
2 minced garlic cloves
Cooking Spray
2 1/2 tablespoons low sodium soy sauce
Sauce - Mix the below together in a bowl or cup
5 tablespoons Asian Chili Sauce
1 Tablespoon seasoned rice vinegar
2 teaspoons red pepper flakes
Directions
-Put a large pan or wok over medium high heat and spray with cooking spray
-Season chicken with salt and pepper
-Brown chicken in pan for a few minutes on each side and remove from pan.
-Add sesame oil to pan and swirl to coat. Add in all the veggies and saute for a minute. Cover and occasionally stir for about 5 minutes - stuff will probably start sticking to the pan.
-Add the soy sauce and stir.
-Add the chicken back in.
-Stir everything together and cut chicken breasts into 3rds.
-Turn heat down to medium. Cover and lift to stir every few minutes for about 12 minutes.
-When Chicken is cooked through pour the sauce over it and mix everything together.
-Let cook for a few minutes longer and enjoy! Veggies should be nice and soft, chicken should be cooked through.
Information
Category

Poultry, Main Dishes

Cuisine

Chinese