TOOSA stands for Tomatos, Onions, Olives, Sherry, Alfredo. I had to think up a quick pasta recipe for my family a few weeks ago, threw this together, and found it to be a hit. Apparently, it's light enough to not cause tummy aches, while still staying filling. Goes well with any meat, though the preferred are Pork Chops or Shrimp.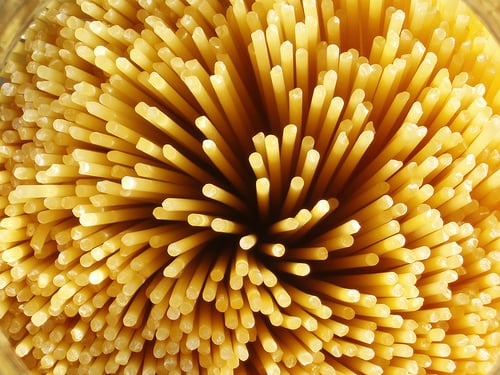 TOOSA Pasta
Original Recipe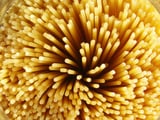 Ingredients
1 12 oz. can of Del Monte Diced Tomatoes (do not drain)
1 2.25 oz. can of Mario Sliced Black Olives (drained)
2/3 box of your choice long pasta (we use angel hair, but it's up to you)
1/2 16 oz. jar alfredo sauce of your choice (We use Classico brand)
2-3 tbsp. Dry Sherry (Normally use Taylor wine brand, but whatever works for you)
1 tbsp. Italian Seasoning (McCormick brand works best)
1/8 tsp. black pepper
1 small onion diced
Directions
Cook your pasta as directed on package. This can be done while cooking the sauce or before. You end up tossing the noodles in the sauce anyway. Dice onions to your preferred size, then place in a large oiled pan on high heat. Cool until starting to caramelized. Add olives, italian seasoning, and black pepper. Toss with onions and cook for two minutes. Then add the diced tomatoes (DON'T DRAIN! The liquid is used to help make the saucey part) and toss with the olives and onions. Add the sherry and let the liquid boil down. This can take between 5-10 minutes, depending on how high you set the heat. Once the liquid part is to a more sauce like consistency, add the alfredo and thoroughly combine. Add your pasta directly into the pan, turning the heat to medium-low, and toss the pasta with the sauce until full coated and mixed together. Serve alone, or with meat. It's a flexible recipe, and can have meat added to it (though cooking the meat before adding to the sauce is best).
Information
Category

Pasta, Main Dishes

Cuisine

Italian