Tuile Leaves Cookie Recipe
This cookie is just great with Ice-cream... it is a bit thin if u have a sugar craving thu...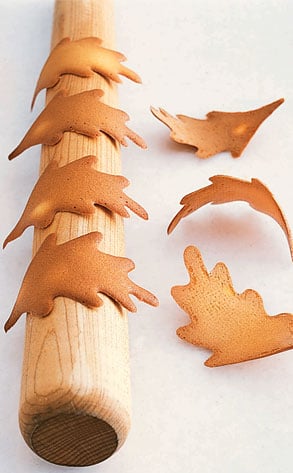 Tuile Leaves Cookie Recipe
Martha Stewart's cookie book.
Ingredients
large egg white
1⁄4 cup superfine sugar
1⁄4 cup all- purpose flour, sifted
Pinch of coarse salt
4 teaspoons unsalted butter, melted
2 teaspoons heavy cream
1⁄4 teaspoon pure almond extract
Directions
Preheat oven to 350°F. Line a rimmed baking sheet with a nonstick baking mat (such as Silpat).
Put egg white and sugar in the bowl of an electric mixer fitted with the whisk attachment. Mix on medium speed until combined, about 30 seconds. Reduce speed to low. Add flour and salt; mix until just combined. Add butter, cream, and almond extract; mix 30 seconds.
Place a 4 1/4-inch leaf stencil in corner of baking sheet. Using a small offset spatula, spread batter in a thin layer over stencil. Carefully lift stencil. Repeat, filling sheet with leaves.
Bake until golden, 6 to 8 minutes. Lift cookies with a small offset spatula, and quickly drape over a rolling pin to cool. Repeat with remaining batter. Cookies can be stored between layers of parchment in an airtight container at room temperature up to 2 days.
Information
Category

Desserts, Cookies