Vegan & Gluten Free Waffles
Vegan & Gluten Free Waffles
It is not always easy making healthy and gluten free recipes (which don't require a billion ingredients) as they tend to turn out too dry and bland but this buckwheat recipe is deliciously moist on the inside, has a crispy edge, and is loaded with flavor. Also, it is sugar free!
Vegan & Gluten Free Waffles
original recipe
Ingredients
1 cup buckwheat flour
1 cup gluten free flour
1 cup soy milk
1 flax egg (1 tablespoon ground flax + 3 tablespoons water)
3 tbsp apple sauce
pinch of salt, baking soda, cinnamon
Directions
Preheat waffle iron. Make flax egg and set aside. Sift flours together, and add salt, baking soda, and cinnamon. Add soy milk, apple sauce, and flax egg and mix well. If batter seems too sticky add 1/4 cup water.
Oil waffle iron and drop about 4 tbsp of batter onto iron. Makes 6-8 waffles (depending on size of iron). Top with sliced banana and your favorite nut butter for a healthy, and satisfying breakfast!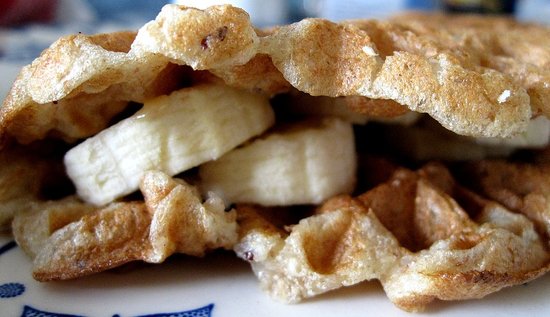 Information
Category

Breakfast/Brunch, Pancakes/Waffles