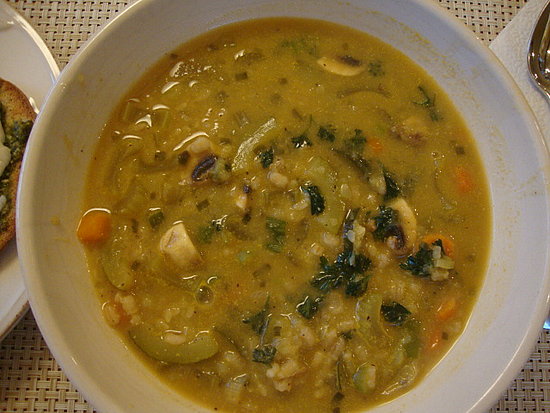 Yes, I am on a barley kick. Since I started using it (Vegetable-Barley Chili) I've been hooked. It has a lovely chewy texture that is ideal for soups and stews. In addition to the rainy weather, I  needed to clean out the fridge of some veggies, so this soup worked out beautifully. Amazing flavor and ideal with some garlic toast or rolls.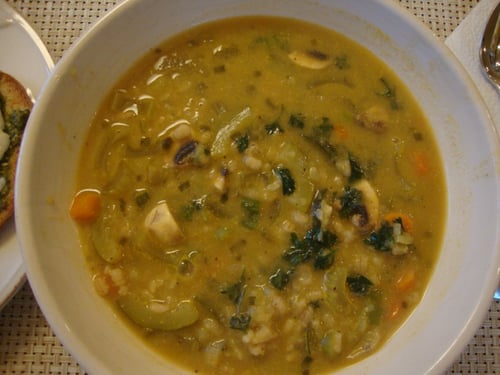 Vegetable-Barley Soup
Original recipe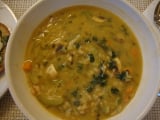 Ingredients
4 C vegetable broth
3-4 C water
1/3 C pearled barley
1 zucchini, sliced then quartered
4 stalks celery, sliced
2 C mushrooms, sliced/quartered
3 medium carrots, sliced
4 large green onions, sliced
1/3 C light miso
1/3 C sherry
3 Tbs dried minced onion
2 Tbs dried chives
1 C fresh parsley, chopped
1 tsp black pepper
3/4 C almond milk
Directions
Combine the broth, barley, zucchini, carrots, celery, minced onion, chives, and pepper in a large soup pot; bring to a boil. Reduce heat to medium and cook 25-30 minutes, or until the vegetables soften. Add 1-2 cups of water along with the mushrooms, green onions, miso, and sherry. Cook another 5-7 minutes. Add more water if you feel it's too thick. Stir in the parsley. Serve and enjoy!

Information
Category

Other, Soups/Stews