When you're a kid, there's always one house that's cooler than all the others on Halloween [1], because it has the best candy or the scariest decorations — and this year, that was the White House. President Barack Obama and First Lady Michelle Obama invited kids to trick-or-treat at the White House in DC, where they handed out candy to little ones while oohing and aahing over the adorable costumes. The South Lawn was fully decorated to get in the Halloween spirit, complete with dressed-up characters who channeled everyone from Frankenstein to Glinda the Good Witch. See all the pictures from the event, and find out why the White House may just be the best place to trick-or-treat!
There were giant characters on stilts.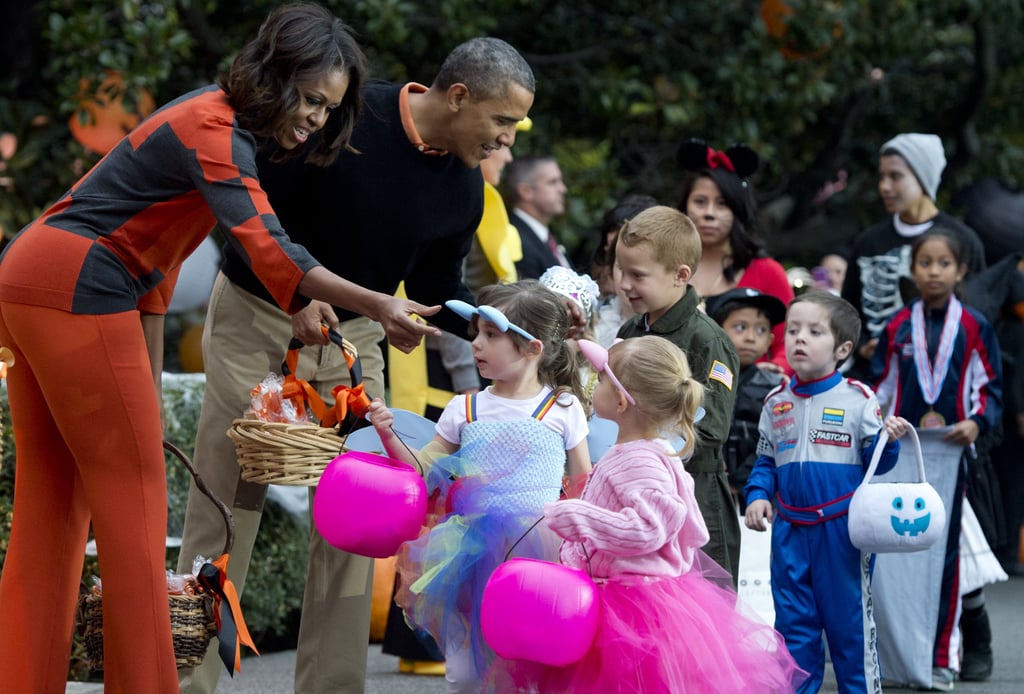 The president and first lady personally handed out candy.
Along with the candy, Mr. President also gave out high fives.
He also used the best facial expressions to react to costumes.
Even if you're shy, he gave you a whole bag of candy.
The White House lawn was taken over by people dressed as Frankenstein and his bride.
Fake smoke filled the lawn, making the White House look haunted.
Kids got big smiles from Michelle Obama if they showed enthusiasm.
And they got to choose from not one, but two baskets of candy.
So many candy choices!
They also got to see Michelle Obama's festivewear.
And Barack Obama really approved of one girl's ruby slippers.
He was also friendly to nurses.
And kids got to see Michelle's mom, too!
But seriously, did we mention Glinda the Good Witch? In a bubble?!
Let's not forget the scary skeleton band.
Or the random spiky tin man.
Even older kids got in on the fun!
And superheroes!
And even though Michelle Obama is all about kids' health, she knows there's a time and a place for candy.
And every little Madeline deserves some treats.
And s'mores deserve some candy too.
There were expertly carved pumpkins.
Plus some really cool, elaborate decorations.
And bottom line: where else will you see Glinda the Good Witch — in a bubble?