At-Home Gel Manicure: Review of Nutra Nail Gel Perfect Polish
Manicure Monday: Can an at-Home Gel Manicure Really Work?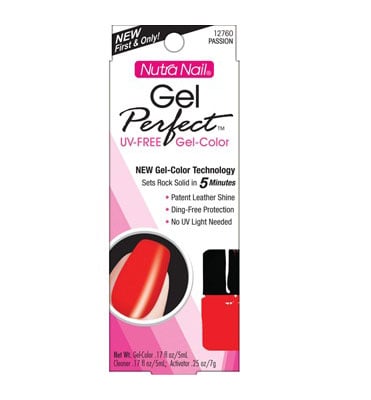 Editor's note: see an update of how the manicure wore after seven days after the jump.
Gel manicures are all the rage at salons, so it makes sense that someone would make an at-home version. That's exactly what Nutra Nail has done with the release of its UV-free Gel Perfect Gel-Color Manicure ($12). While the brand markets the manicure as a five-minute deal, in reality, I found that the whole process takes just a bit longer than your average nail polish time.
After thoroughly pushing back cuticles and filing the nails, steps that are essential in making this manicure look clean, polish activator (which is essentially nail polish glue) is applied to each nail on one hand. Colored gel polish comes next — I used Passion, a candy-apple red — and then the color brush must be cleaned off immediately with a special antistiffening solution that comes in the kit. Then, the same process is repeated on the other hand. Once the polish sets, which takes practically no time at all, you repeat this whole process over so that you've painted on two layers of color. See more when you keep reading.
I'm not going to lie: the first time I tried the polish, my application was a failure. The layers were too uneven and thick, and because I had not prepped my nails accordingly by shaping them and pushing back the cuticles, any existing flaws were accentuated. But after putting in the proper prepainting effort during my second attempt, I found that applying thin, steady layers was key.
I've had the polish on now for three days, and have absolutely no chips. The color is pretty, dried almost immediately, and looks ultrashiny. But will it last longer than your traditional manicure? Stay tuned for an update next week.
Update: Well, it's been a week since I polished my nails with the Gel Perfect. Unfortunately, at the end of day four, my nails started to chip around the free edges, and by six, there was a lot of obvious chipping all over. While I loved the look of the nails during the first few days (seriously, they looked professionally done), they just didn't wear as well as I expected. However, the polish is quite inexpensive and can be used multiple times. So if you don't care about some chipping after a few days, you still might like this product if rich, patent-leather shiny nails are appealing to you.