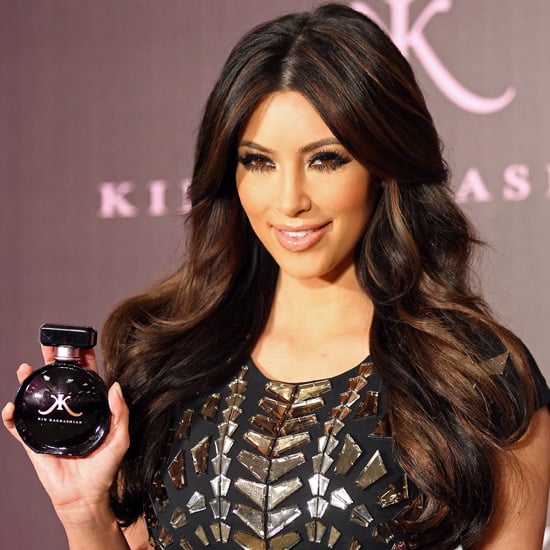 On Wednesday afternoon, Kim Kardashian changed her Facebook status to "Ok now heading to a fragrance meeting. I need a name for my new perfume! Any cool ideas?" Three hours later, more than 8,000 people had responded with suggestions ranging from the rather usable to the patently absurd. I slogged through the responses to find the 20 most hilarious. Here's hoping Kim doesn't pick any of these names; see what they are when you keep reading.
Climax. No, just . . . no.
KKK. For clueless people who have never heard of "history."
Hathor, goddess of life. I really do love the Egyptian goddess Hathor, but A) she's not the goddess of life, and B) she has a cow's head. Methinks Kim would not approve of the comparison.
Krystallized. There's a slider chain in the South called Krystal, and this name just makes me think of tiny hamburgers.
Kim-ical Essence. Because nothing says awesome like chemicals.
KK LOVE—the sweet smell of sexiness. This one is kind of great, I have to say. But I think there may already be a DJ in 1995 with the name trademarked.
Smells Like Kardashian Spirit. Can't you just see Kim getting all grunged up for this campaign? Yeah, me neither.
Konfidential. This is one thing the Kardashian clan is not.
SeKc. Otherwise, how will people know that it's sexy?
Ka-dash-strophic. Kim probably doesn't think so.
Dash-Of-Me. I'm happy for Kim to have a scent, but I don't like the image of someone physically wringing her out into a bottle.
Kendal Lendal Kardashh. Cute, but confusing.
Loving ... by Kim Kardashian. This one would require an '80s-style perfume commercial with big hats and lots of sighing.
KiMystery. I think for this one, she'd need to team up with that pick-up artist who always wears terrible furry hats.
Jockin JLO. Come now, celebrities have been making perfumes for decades. In truth, everyone's just "jocking" Elizabeth Taylor.
Rush. This is already a fragrance. From Gucci.
Klues. This is clearly the flanker for KiMystery.
William. This suggestion came, surprisingly, from a dude named William.
Dafumez. Fumes, even with a "z," do not usually suggest a high-quality product.
Gold & Egypt. Two great tastes that, uh, taste better on Kim Kardashian?