The stars braved the rain and in many cases held their very own umbrellas [1] tonight at the Golden Globe Awards [2]. As always, we were there to capture all of the red carpet fashion and beauty looks, and even told you how to get them. We also have updates live from the press room. Check out all our coverage below!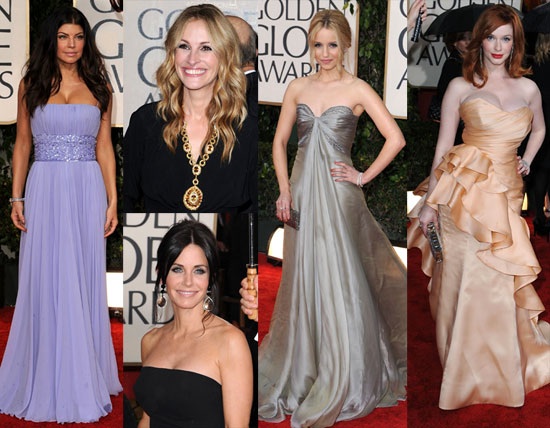 Red carpet fashion and beauty coverage:
Who was best dressed [3]?
Vote on all of Fab's fashion red carpet love it or hate it polls [4].
Red carpet trend: short and sweet [5]
Red carpet trend: alluringly artsy [6]
Vote on all of Bella's beauty red carpet love it or hate it polls [7].
See how to get these red carpet looks:
Kristen Bell [8]'s strapless white satin cocktail dress [9]
Julia Roberts [10]'s basic black [11]
Sandra Bullock [12]'s purple reign [13]
Amy Poehler [14]'s sexy one-shoulder red gown [15]
Rose Byrne's strapless eggplant dress [16]
Ginnifer Goodwin [17]'s electric blue halter number [18]
Olivia Wilde [19]'s sexy gunmetal gown [20]
Lea Michele [21]'s black strapless floor-length gown [22]
Check out our live press room coverage:
Sandra Bullock rides her Blind Side high [23]
Glee cast gets joyful and talks Suri Cruise [24]
January Jones can't contain her Jersey Shore love [25]
Drew has belated thanks for Jessica and Justin [26]
Michael C. Hall is happy, honest, and humble [27]
Vote on Buzz's winners polls [28], and see the full list of Golden Globe winners [29]!