2010 Political Hair Snark Trend: Worst of 2010
Biggest Headlines of 2010: Politics Get Ugly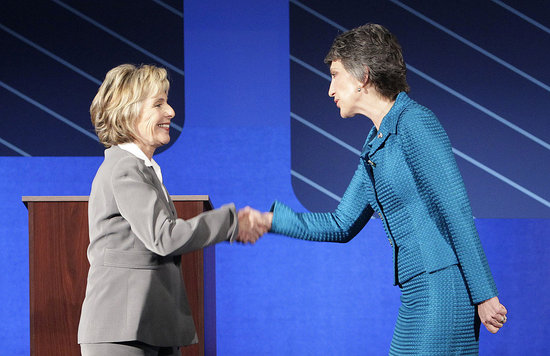 2010 was a big year for women in politics but not always in a positive way. Case in point: the continued focus on looks over substance. An August Washington Post story devoted more than 1,000 words to Hillary Clinton's haircut, and one month later, people clucked at the Secretary of State for wearing a shiny butterfly clip to a United Nations meeting. Though the hair accessory got press, little was written about Secretary Clinton's actual meeting with Norwegian Foreign Minister Jonas Gahr Store.
During the California Senate race, Carly Fiorina was caught mocking her opponent, Barbara Boxer — not about Boxer's policies, but about what Fiorina called a "so yesterday" haircut. Down under, a political rival of Australian Prime Minister Julia Gillard sneered that her first task should be to "get a decent haircut."
From Pelosi to Palin, women in politics have bigger issues to worry about than whether their hair is perfectly coiffed. Look, we're all for people feeling and looking their best, but let's keep things in perspective. And let's hope that next year's discourse focuses more on splitting political hairs and less on split ends — which would look pretty good to us.