2011 Celebrity Bikini Pictures
Last Chance to Vote — Which Star Has the Best Bikini Body of the Year?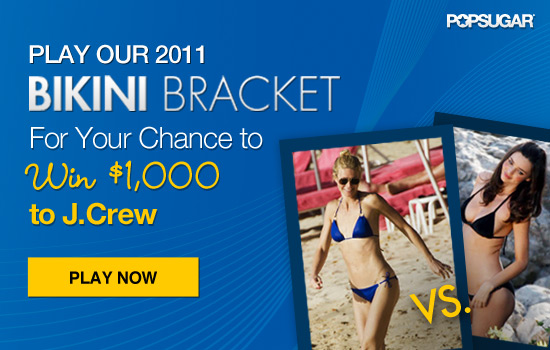 It's your last chance to vote in our annual PopSugar bikini bracket! From Kristen Stewart to Kim Kardashian, tons of gorgeous stars showed off their amazing figures this year, and it's been an exciting race over the past few weeks. There are 64 stars in the running for this year's title, and we need your help to crown the bikini queen. Start by clicking above, and go through the first-round matchups by picking your favorite bikini picture each time. Once you've done that, we'll take your favorites and pair them against each other. Continue to click on the hottest gal until there is only one bikini babe left. At the end of the month, we'll tally up your votes and crown our new winner. Plus, when you finish choosing your winner, you'll have the opportunity to enter to win $1,000 to J.Crew. What are you waiting for? Play now, and check back for our shirtless guy bracket on PopSugar soon!