ANTM Cycle 20 Winner's Beauty Tips
Girls Rule, Boys Drool! ANTM Winner Reveals Her Beauty Secrets
Who could have guessed that America's Next Top Model would reach a 20th season, and this year it was a battle of the sexes. However, one woman came out on top: Jourdan Miller. "I don't even know how to say thank you or really describe how grateful I am, but I'm so excited," she gushed in a recent phone interview. "I can't wait to get back to work and start modeling again." You'll be able to see Jourdan's first official shoot in Nylon next month, but until then, get the behind-the-scenes scoop from the winner herself. And once you have all of Jourdan's beauty tips down, see what the other ANTM winners are doing now.
POPSUGAR: A lot relies on your skin when you're a model; what's your skin care routine like?
Jourdan Miller: My skin care routine is pretty simple. I use the Neutrogena Transparent Bar ($3). I feel like when I'm breaking out, if I wash the blemishes with that, it seems to always disappear the very next day. I wash my face in the shower, but it's the last thing I do because if I get any conditioner on my face, I break out. So after I rinse my hair out completely, I'll wash my face one last time before I'm out of the shower, that way I have time for that steam to really open up my pores. And then the other [product] is a moisturizer. I just use Olay. It doesn't matter if it has the antiaging in it or not, I just really like how the Olay feels on my skin. In the past, to help get rid of blemishes, I use anything that has the salicylic acid in it.
PS: You went from a brunette to blonde. What was that makeover moment like?
JM: I was terrified. I had never, ever dyed my hair in my whole life. So I was like, "Oh no, it's going to get all frizzy!" And I wasn't sure if the color was going to come out right. It was very nerve-racking. I sat in the sink for, I want to say, 12 hours with the bleach in my hair. Afterwards I didn't like it because every time I looked in the mirror I didn't recognize myself. But after a week, I was like, "I'm never going back to brown!" I have so much more fun, so much more confidence, I get noticed more as a blonde, and I think it's fun.
Find out more about the latest ANTM winner when you keep reading.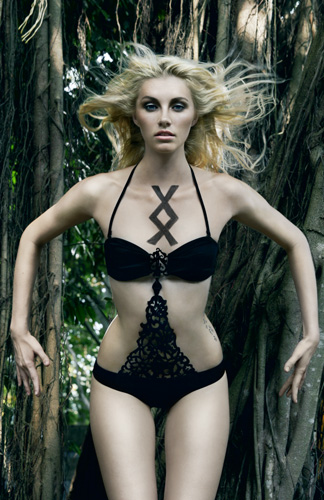 PS: Do you have any makeup tips we can use for taking photos?
JM: The funny thing is that I used to be addicted to watching those tutorials on YouTube for makeup, so I learned a lot about contouring and highlighting from the videos that girls like me were posting on the Internet. My favorite looks to go with are a simple mascara and lip gloss, or I like to do a soft, bronzy smoky eye — nothing too dramatic, but still where you can see the definition and the shadow. A little bit of mascara, a little bit of contouring on the cheeks, and I'm obsessed with my Victoria's Secret lip gloss ($14) that I have. It's a nude color.
PS: Who are some of the models that you look up to for inspiration?
JM: Karlie Kloss. I've followed her career since I was about 15, and she's done so well for herself. She's taller than most other models, which makes me feel better because I'm taller than most models. I really admire her success and how she's kept a good head on her shoulders.
PS: For your career, what is going to be your big "I've made it" moment?
JM: My ultimate goal, since I was a little girl, is to stomp out that Victoria's Secret runway show. It would also be an honor to work with Saint Laurent. I remember reading an article when I was younger in Vogue magazine that talked about his inspiration as a designer, and I just think I connected to him, and ever since then I've been obsessed with every single line they've come up with. So working with them would just be life-changing and another dream come true.