Is Abercrombie and Fitch's Pumping Fragrance Into the Air Safe?
Abercrombie and Fitch Protested For Emitting Fierce Fumes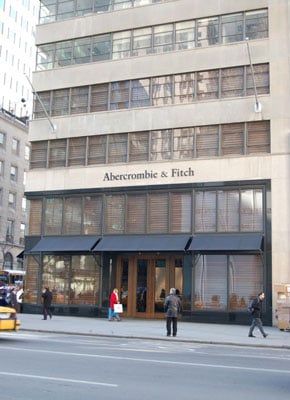 The majority of you said you were tired of stores pumping perfumes into the air — particularly Abercrombie and Fitch. Now, Teens Turning Green, a student-led group advocating the elimination of harmful substances, isn't going to take it anymore.
Today at Abercrombie's flagship location on 5th Avenue in New York, the organization plans to stage a protest, claiming that the combination of Abercrombie's Fierce scent being emitted into the air from track lighting is putting customers in danger's way. "We as teens feel it is unacceptable that Abercrombie and Fitch customers are unknowingly being exposed to harmful chemicals by simply walking into the stores," said Jessica Assaf of Teens Turning Green.
As you might imagine, The Campaign For Safe Cosmetics is weighing in, claiming that the scent is formulated with 11 "secret chemicals," not to mention allergy-causing ingredients, and a chemical that's thought to be disruptive to male reproductive health.
In a statement on Abercrombie's Facebook page, the brand responded by saying, "The machines [used to distribute the fragrance] emit a water-based, safe fragrance that complies with local, state, and federal laws. The formulation contains no harmful volatile organic compounds or any chemicals known to cause cancer, birth defects, or any other reproductive harm." There are two sides to every story, but which side are you on?
Source: Flickr User Rob Young