Alexander Wang Fall 2010
2010 Fall New York Fashion Week: Alexander Wang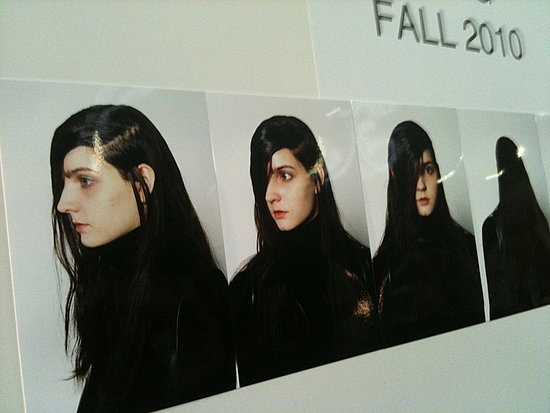 When you're one of the hot names in fashion, you can lure people out to the boondocks of Manhattan — and if anybody grumbled, I didn't hear it. Before Alexander Wang's show, the backstage was filled with the big names in modeling (Natalia! Agyness! Freja! Anja!) and a faint whiff of hair spray in the air.
To find out what went into the creation of the Alexander Wang look and see more photos, keep reading.
Hair spray was key to bringing Guido Palau's hair concept to the runway. He was going for a "tomboyish, sexy" look with an edge. To create the heavy style, he sprayed Redken Forceful 23 hairspray — and lots of it — while blow-drying the hair. Simple, unfussy, easy.
Over in the makeup chair, Diane Kendal led a team of MAC artists as they took models back to the early '90s. The grunge-lite look began with an application of MAC Studio Fix Moisturizer, and the ruddy eye makeup was created by blending Sepia Cream Color Base with brown Paintstick. After painting the mixture on eyelids and underneath, she applied black cream liner. Brows were filled in with eye shadow, a little lip balm went on the lips, and cheeks and lashes stayed bare.
Rounding off the look: an opaque beige nail. (It's two coats of Butter London's Yummy Mummy polish followed by a matte topcoat.) Nonie Creme of Butter London said that at this point, "the Alexander Wang nail" has become a running joke. "Every season I try to talk him out of it," she says of his preferred style. "And he talks me back into it." You know what they say: if it ain't broke, don't fix it.