Most people recognize Alexandra Daddario as AnnaBeth from the Percy Jackson movies. Others might recall her risqué nude scene with Woody Harrelson in True Detective [1]. And if you don't know Alexandra, you'd immediately be enchanted by her piercing blue eyes and beauty that transcends from modern-day to Old Hollywood glamour. We recently sat down with the rising star to discuss her beauty regimen, her upcoming movie projects, and Viva La Juicy Gold Couture [2] ($25-$92), the newest fragrance release from Juicy Couture. The potent juice has notes of melted caramel, wild berry, and amber that can bring out any woman's inner flirt.
On Her Beauty Routine . . .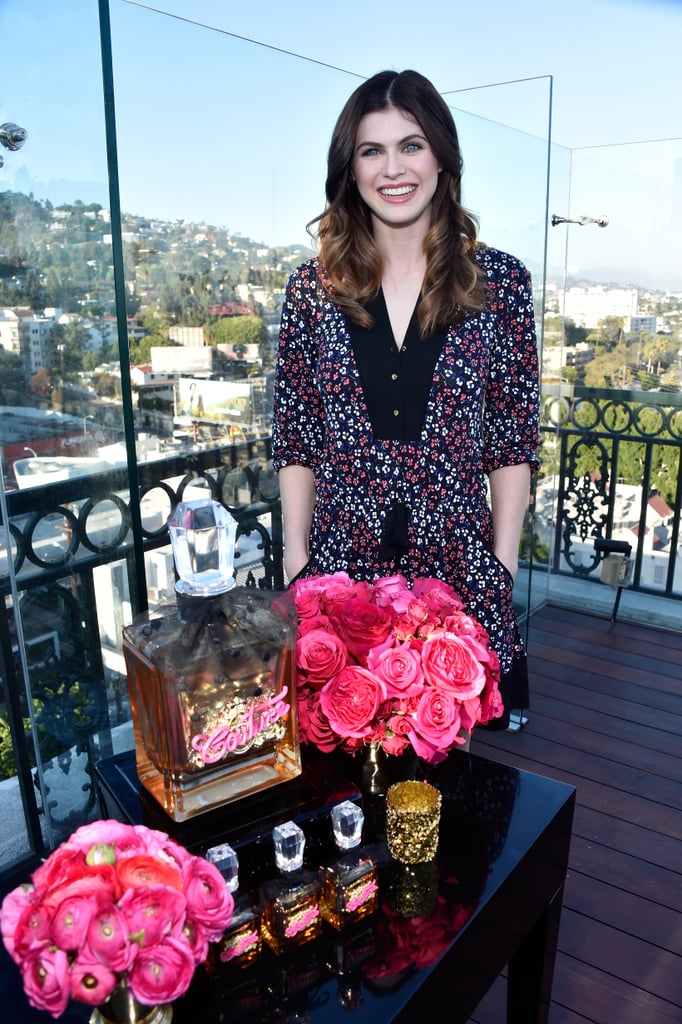 POPSUGAR: So tell us a little bit about why you love this fragrance — why does it speak to you?
Alexandra Daddario: It's a really sweet, sort of flirty scent. It's something I think people will notice. You know when you get into an elevator and you're like, "Someone in here really smells good"? I feel like it's one of those really delicious, noticeable scents. It's also a really beautiful bottle. It looks really good on my bureau!
PS: Do you have a first fragrance memory?
AD: My mom bought me Chanel No. 5 for Christmas one year. I think I was 13. It's the most classic sort of perfume, and it was the most exciting thing ever for a young girl. I think I still have that bottle. But I really fell in love with that scent. Scent is actually the strongest thing tied to memory. If I smell Chanel No. 5, I have all of these memories of my mother.
PS: All right, what about application tips? Do you have a signature way you apply?
AD: I usually do the one spritz and a walk-through. And then one more spritz and a quick walk-through.
PS: Love that. So I tweeted out that I was interviewing you, and your fans went crazy. They want an update on your skin regimen.
AD: I really love this organic product line called The Body Deli [3]. You sort of feel like you're putting a salad on your skin sometimes. They make really great moisturizers. It's all plant-based, and the woman in the store says you can eat it if you want to. It doesn't taste good, but you could. It wouldn't be bad for you. It's very natural. Sometimes I use a little bit of olive oil to take my makeup off, and I think that makes a huge difference in your eye area because you're not pulling at your eyes. It's cheap, and it's in the kitchen.
PS: A little DIY [4] skin action! You know, when you smile so much, it's nice to have that olive oil really work out the lines around the eyes.
AD: Yeah! And olive oil is something they put in a lot of moisturizers anyway. So I figure, why not just buy a bottle of olive oil?
On Her Leading Men . . .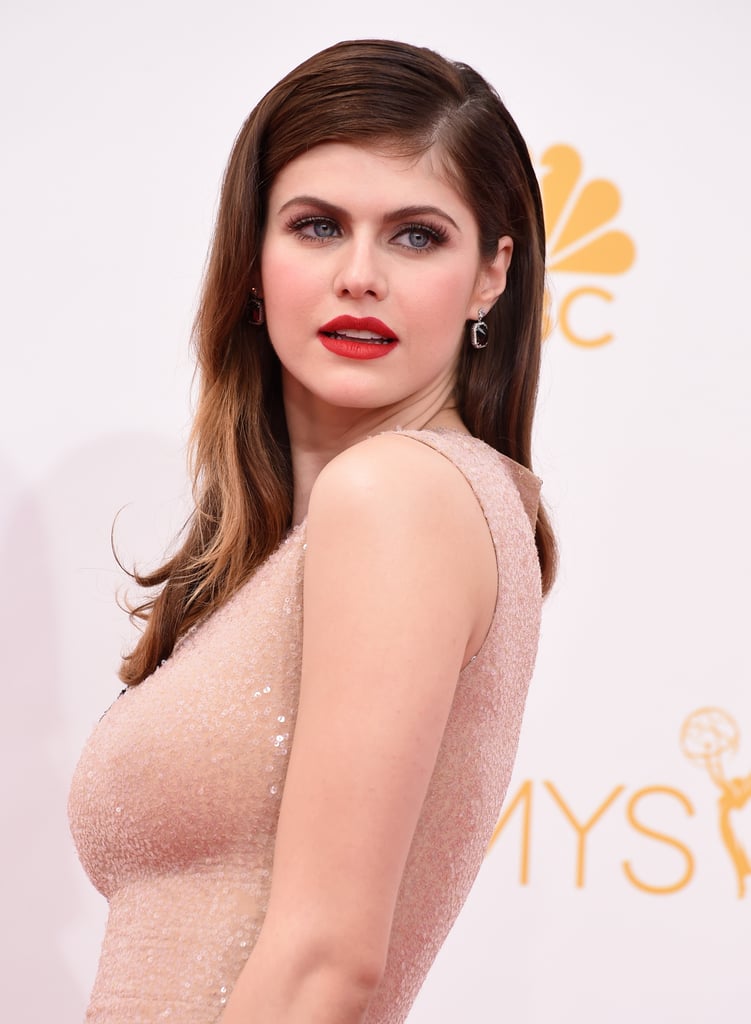 PS: Let's talk about San Andreas with The Rock, Kylie Minogue [5], and Colton Haynes. I feel like Dwayne Johnson is really well groomed.
AD: He is!
PS: Did he teach you anything in terms of grooming or beauty?
AD: You know, he didn't. I'd say the main thing — and everyone knows this about Dwayne — is that he works out a lot. Everybody says you need to work out at least three times a week, and it really does make a difference. For your skin, for how you feel . . . If I don't work out for a week, I start to really just feel bad. It really helps not just physically but also emotionally. It can keep your spirits up. So if anything, I think that would be his main beauty trick. That would be my guess.
PS: What about Kylie Minogue? Did you have any scenes with her?
AD: I didn't have any scenes with her! But I did get to meet with her, and she is the nicest, most remarkable person. We had dinner and then this impromptu salsa-dancing thing after. We closed the restaurant down! She's the most amazing dancer.
PS: What about Colton? He's a heartthrob! Do you have any dirt on him?
AD: It's impossible to find dirt on him because he's just the nicest guy — ever. He had that reputation before I met him, and after I met him, everyone who knows him was like, "You must have loved working with Colton!" I didn't get to work with him that much either, but we had dinner one night. . . . He's just a really nice guy, and he deserves all the success he has. And he is not hard to look at.
PS: Let's talk about your new film Burying the Ex. Can you tell us about your character and what we can expect?
AD: I play the new love interest for Anton [Yelchin]'s character during the hijinks that ensue after his ex-girlfriend comes back from the dead. The director is Joe Dante, who is a remarkable human being. The movie is funny. Even though it's about zombies and the supernatural, it's relatable and real because sometimes you have these relationships you can't get rid of. It's sort of a metaphor for that in a way.
PS: Taking it back to beauty: what's your number one beauty trick or beauty hack?
AD: Besides olive oil, I think that getting enough sleep is honestly my main thing. I find that if I sleep well — eight hours, nine hours, 10 hours . . . [Laughs.] I think if you can, making sleep a priority is a huge thing. And for a quick fix, I think, again, exercising, moisturizing, and wearing SPF is a huge thing. Especially starting young. Get a moisturizer with sunscreen in it, and start when you're a teenager. You will have beautiful skin your whole life.
PS: Last fan question: would you ever consider playing Wonder Woman? They think you're perfect for the role.
AD: Yeah! If they would have me! A lot of the roles that I've played are strong female characters. I am really looking forward to seeing Wonder Woman in a movie. Finally seeing it come to life is going to be amazing.