Whether it's the classic text or one of its film renditions, people from all over know and love Alice in Wonderland. Disney tattoo fanatics [1] and literature-lovers alike have characters or elements from the story memorialized on themselves permanently. We've sought out some of the coolest Wonderland ink around for your perusal. Read on to see some tattoos that'll make you grin like the Cheshire Cat.
Source: Instagram user eafos_hallam [2]
The Queen of Mean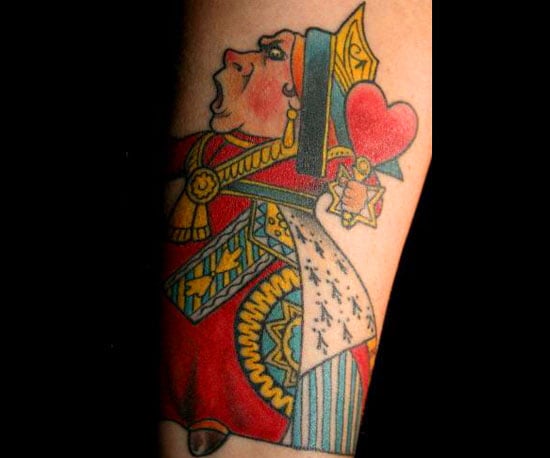 Jes from Tough Love NYC is the proud owner of this Queen of Hearts, who looks just like the one in the original illustrations. The colors are amazing — she even has rosy cheeks and a red nose.
Painting the Roses Red; We're Painting the Roses Red
Jes from Tough Love NYC is also the brains behind these poor, doomed cards. Too bad they're going to lose their heads.
Falling Down the Rabbit Hole
We love that this tattoo is on a leg — it makes Alice's constant state of motion seem more realistic.
House of Cards
Alice surrounded by many of the other most interesting characters from the story.
Drink Me
The quote tattooed here is not only insightful but also a powerful coming-of-age statement.
Disney Girl
A Disney version of Alice and the Cheshire Cat.
Beg Pardon!
This rendition of the croquet scene is based on John Tenniel's original illustrations.
Only Words
Kirsten got this calligraphic tattoo, which comes from a speech by the Queen of Hearts in chapter nine of Alice's Adventures in Wonderland. Kristen was about to graduate college and said the quote was "a great reminder for me before I enter the real world."
Bread and Butterflies
So whimsical!
Your Highness
Kate, who sports this tattoo, also has a Drink Me bottle farther up her arm. She's planning on getting an entire sleeve.
Tea Party
Everyone from the Mad Hatter to the Cheshire Cat is portrayed on this tattoo sleeve.
Go Ask Alice
Jenn from Sarenity Tattoo in Fort Gratiot, MI, created this lovely pen-and-ink-style Alice for her sister Jessica.
10 Inches High
The shadowing on Alice's apron transforms this tattoo from a basic illustration to a more significant work of art.
Mad as a March Hare
Jenn also created this great March Hare.
That's One Relaxed Rabbit
This is what the White Rabbit does on his weekends, apparently (hey, I'm not judging).
Curiouser and Curiouser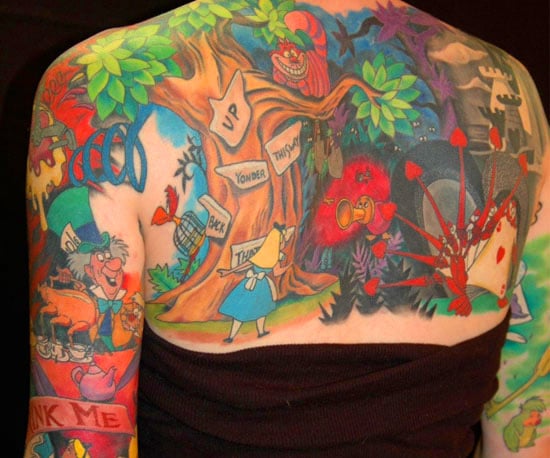 Holly Azzara [3] created this amazing full-back tattoo done in the Disney style. If you look closely, you can see almost all the characters from the movie done exactly as you remember them.
Do You Play Croquet?
This tattoo references the silly croquet scene at the Queen of Hearts' castle from the Disney film.