Alicia Keys Picture and Hair Braid Tutorial
Get Alicia Keys's Retro Fishtail Pompadour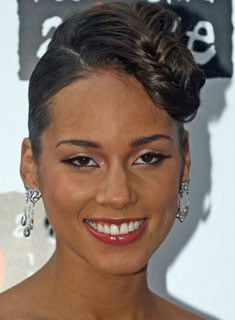 Alicia's having a big day: she just announced that she's pregnant and engaged to her boyfriend, Swizz Beatz. Last night at the Black Ball, she decided to match her good news with some equally great hair by rocking this gorgeous fishtail-braided updo. Pompadour hairstyles are definitely trending on the red carpet right now, and Alicia's retro take on the look is one of my favorites so far. So to find out how she got the style, just keep reading.
The style is essentially an upside-down fishtail braid, which can be tricky even if you're a good braider, so if you can grab a friend to help you, definitely do.
if you have fine hair, it's also much easier to do this when your hair is slightly damp or towel-dried. If you have fly-aways, apply styling cream beforehand to keep your braid smooth.
Brush your hair forward, so that the nape of your neck is exposed, then divide it into two sections and begin braiding straight up the back of your head. Check out our handy slideshow to see how to do a fishtail braid. If you're more comfortable with French braiding, you can achieve a similar look with that technique.
Braid your hair all the way out to the ends, then take the "tail" of the braid and loop it over to one side of your head.
Using bobby pins and an elastic, secure the end and pin it under the loop.
Secure the loop with bobby pins as well, and finish the style with plenty of high-hold hairspray.