Allison Harvard Beauty Interview
A Look Inside the Captivating Mind of ANTM's Allison Harvard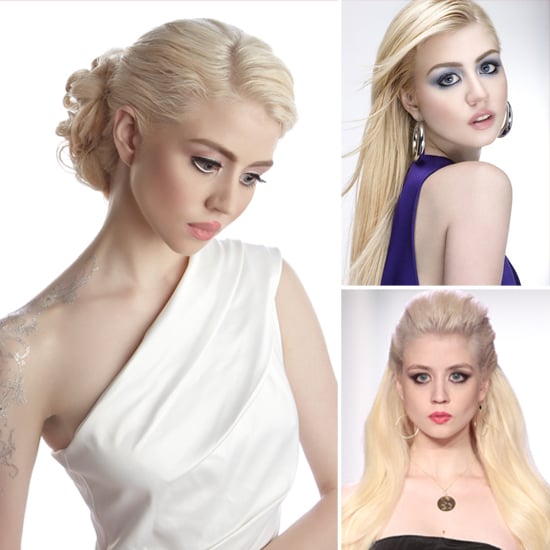 Longtime fans of America's Next Top Model will remember contestant Allison Harvard from both cycles 12 and 17 (aka the all-stars season) of the hit show. The wide-eyed blonde, who made a name for herself pre-ANTM as the Internet meme Creepy Chan, has frequently expressed her love of the macabre. And as an artist and photographer, her work often reflects this peculiar, offbeat feeling.
This year, Allison walked in designer Malan Breton's Fall 2012 show, and most recently, she's appeared in promotional photos for G Fine Body Art, a beauty brand that's set to launch glittery body art services at salons and spas starting later this Fall. See what Allison had to say about her work with the line, where she finds her inspiration, and the three beauty items she's currently toting around in her bag when you keep reading.
BellaSugar: How would you describe your fashion and beauty aesthetic?
Allison Harvard: My fashion and beauty aesthetic is balance. I love playing dress up, and I love experimentation. It's a wonderful marriage. I also believe in wearing all of your favorite things at once even if they don't match.
BS: Who have been your biggest role models?
AH: My parents are wonderful. Vivienne Westwood and Helmut Newton are endlessly inspiring. I am also forever inspired by those who make things.
BS: What/who inspires you?
AH: Dreams, faces, and space.
BS: In all of the shoots you've done and your experiences modeling, what are some of your favorite makeup and beauty tips and tricks you've learned?
AH: Moisturize always.
BS: What's the best advice anyone has ever given you, beauty or otherwise?
AH: Always feel comfortable. The moment you are uncomfortable it shows. Enjoy as much as you can.
BS: How did you get involved with G Fine Body Art, and what was it like shooting the campaign?
AH: I have wonderful friends that I am fortunate enough to work with. [The husband and wife team of] Mau (fashion photographer) and Au (makeup artist) Mauricio recommended me for the job, and I am so happy they did. I had such a magical time shooting the campaign. I love glitter and I love temporary tattoos.
BS: What are some of your favorite things about modeling?
AH: I love the idea of creating new characters. You can become a new extension of yourself through pictures and the results are always so interesting. Pictures are fascinating.
BS: What three beauty products are in your purse now?
AH: Burt's Bees Lip Balm, Chanel Rouge Allure Lipstick, and a few jars of glitter.
Photos: Mau Mauricio, The CW, and WireImage. Makeup and hair in left photo by Au Mauricio and Eugene Conde, respectively.