Amanda Peet Talks Teeth Whitening and Turning Her Hair Green
Amanda Peet Talks Teeth Whitening, Traveling, and Green Hair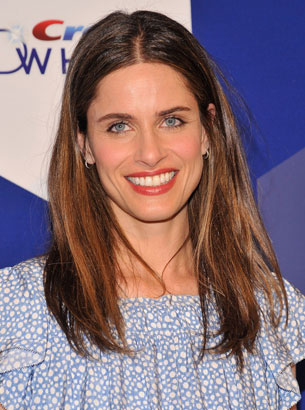 Since bursting into the scene in the mid-1990s, Amanda Peet has starred in everything from TV shows to independent films to megahits like 2012 and Something's Gotta Give. Now, she has a new gig as the spokesperson for Crest 3D White.
"I personally think that the 2-Hour Express Whitestrips ($54) are such a great beauty tip because I think that having a really stainless smile is an underemphasized part of our beauty regimens, " she says.
She obviously has a great smile, so to see the rest of her tips on how she keeps it looking beautiful, along with a few of her beauty tips, keep reading.
BellaSugar: Tell me how you got involved with Crest.
Amanda Peet: It was a huge honor that they asked me to be part of the campaign . . . As part of the launch, Crest donated up to 50 smile surgeries to Operation Smile so it's a really wonderful cause. It's just been an honor.
BS: So how frequently do you use the new 2-Hour Whitestrips?
AP: I usually do it once every three months. That's the recommended waiting period, but think of it more as an event-based beauty treatment — almost like getting a facial for your teeth. So if you have a date coming up or you have an event or pictures or wedding or something like that, it's a great tool to use at the last minute.
BS: You're known for having a great smile. What other things do you do to keep it looking great?
AP: I like Elizabeth Arden Eight Hour Cream to keep my lips moist. I don't use that much lipstick, because I'm not a big lipstick wearer.
BS: I know your family is out in New York, so you probably travel a lot back and forth between the coasts. Any tips you've picked up along the way for keeping it together while traveling?
AP: Just don't travel with your two children. Make your husband do it.
BS: What have you found to be the most surprising about the aging process?
AP I'm just so shocked that I'm not 22 anymore . . . maybe not 22, but I'm just really shocked that I'm not 28. I have almost the same exact same feelings that I had when I was 28 on the inside, but on the outside things are looking different.
BS: What's the craziest thing you've done in the name of beauty?
AP: I put Jolene lip bleach in my hair to make it blond when I was 13.
BS: Oh no! And what happened?
AP: It turned green. It was pretty tragic.
Stay tuned for more from our interview with Amanda, including her must-have product, her favorite red-carpet moment, and what makes her happy.