Amanda Seyfried's Foot Tattoo
What Do You Think About One-Word Tattoos?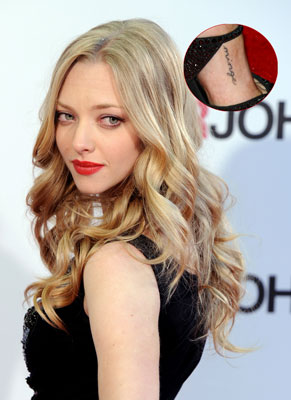 It was recently brought to attention that the seemingly sweet Amanda Seyfried has a rather naughty tattoo on her inner left foot. The actress, who has admitted that she has a dirty sense of humor, said of her ink:
"It's a nickname, it's evolved into kind of an endearing term, a term of endearment. I don't really take that many things seriously so I thought, 'Hey, why not?' I wanted to know what a tattoo felt like. I got it in October, and a couple of us have it. 'Minge' [is] slang in Britain for like, 'vagina.' I don't know, a lot of people think I don't know what it means, but I've lived there before I know what it means."
What do you think about that one, FabSugar UK? But Amanda's not alone when it comes to one-word tats. Rihanna has "love" tattooed on her left middle finger and model Freja Beha Erichsen has the word "float" on the left side of her neck. When it comes to these straight-to-the-point designs, what's your opinion? Do you love 'em, or do you prefer other types of ink?