Angelina Jolie Hair Tutorial: Cancun Salt Premiere 2010-07-01 10:00:17
Get Angelina's Beat-the-Humidity Hair in 4 Easy Steps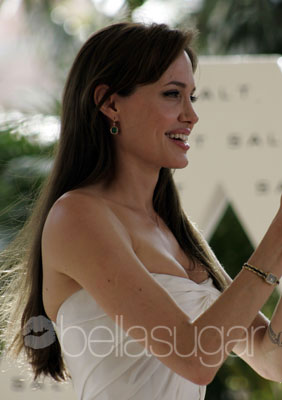 Yesterday at a press event for Salt in Cancun, Angelina Jolie beat the heat and humidity thanks to the work of stylist David Babaii. First, he cut Angelina's bangs so that they'd fall into a soft, slightly choppy side-swipe. He then applied a series of antifrizz products to keep the hair from going wild in the steamy weather. You can get a similar look, too — in just four easy steps. Find out David's tips when you read more.


To protect the style from the heat of the blow dryer and lock in shine, David applied MoroccanOil Treatment ($37) to Angelina's damp hair.
Then, for soft hold and smoothness, he applied MoroccanOil Hydrating Styling Cream ($28). Next, he made a side part and swept the bangs over to the left.
Using a large round brush, David blew out the style, working in sections: two on each side, and a larger one at the back.
"To finish the style, I manipulated the hair and tousled it for a natural, bohemian touch," he said. To lock the style into place, he spritzed on MoroccanOil Luminous Hairspray ($20). This provided hold, but retained plenty of movement.